Joined

Oct 29, 2005
Location
This free ap puts a widget on your screen that monitors your 'location' so that you know at a glance at all times what access point you are connected to. Google fused the ability to monitor ssid AP's with the gps chip a few updates ago. Without gps on it works but will only give you a static icon for the ssid's. With gps on it changes color and displays relative strength for the one activated.
I was using phoneprofiles plus to change a bunch of settings at once but if your ap changes for whatever reason, it never tells you from the widget, or you have to use the drop-down menu to find out. Very annoying.
Interestingly enough, the dev's page for the app states that google removed it from the playstore for violating it's policies. But get this, it was because he put a direct update link in the app which bypassed the playstore. Good. It works too.
Anyway, I found it while seeking out a free widget to simply monitor which AP I was connected to.
It has 3 versions. Grid, horizontal, or vertical. Maybe one of you guys, or gals, might find it useful. If you install Private Location and set it as the mock location app in developer mode settings, you can leave the gps on at all times and not actually give that info out. Priv Loc is on fdroid app or you can get it direct from the fdroid website.
http://www.giuseppeparrello.it/en/stw_android_ssidwifimanager.php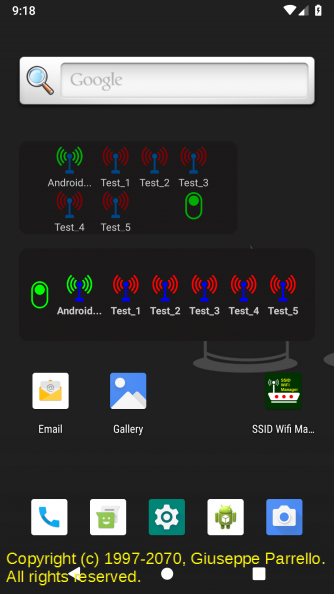 There may be another ap that's better that's 'free'. Let me know if you know of one.
(c)1997-2070 LOL
Last edited: