I had no chance to test many Team Group memory kits as there is limited availability in my local stores but I got the latest series of this brand which is Vulcan T-Force. Tested memory kit contains two 8GB memory modules rated at DDR4-3000. Main timings are really relaxed comparing to most other gaming/enthusiasts series on the market - 16-18-18 at 1.35V.
Let's start from couple of photos and next I will move to more detailed specification.
Memory kit has one XMP profile of 3000 16-18-18 1.35V which is working without issues on Z170 and X99 motherboards from ASRock and MSI. I had no chance to test it on other brands but I assume that will work too.
Below is screenshot from stability test made in AIDA64.
AIDA64 is also showing us there are Hynix SK memory chips. Memory is single rank/single sided but we can see Hynix MFR series on the chips ( and software ). It's simply new revision which is acting a bit different than the older series. We could see that in HyperX DDR4-3333 memory kit tested not so long time ago.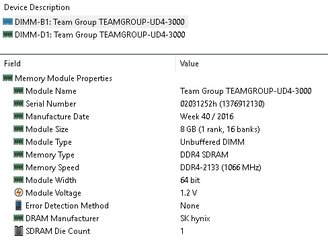 Here are results at the XMP settings. You can also see IC description in Thaiphoon Burner which is showing some more details than AIDA64 regarding used memory IC.