Hi all,
Here is my promised completed thread for my latest project. A few prefacing notes:
1) The worklog can be found
here, when it was titled my "Framer Project".
2) A lot of this is re-hash of the project log, but I've got some pretty nice money shot pics.
3) I will be re-posting this in other locations, pretty much cut'n'paste--I've felt insecure ever since the Abit forum went down!
4) Please refrain from posting until I am complete
Without further ado, I give you:
The Navig Exoframe
Right side of the case.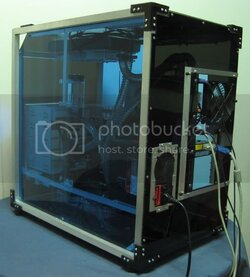 Backside of the case.
In one sentence, I'd describe the Navig Exoframe as:
A DIY scratch built watercooled exoframe covered with plastic panels.
The 2 basic elements to this case are:
1) Square tube aluminum box frame
2) Translucent plastic paneling (dark bronze on the front, top, back, and bottom, and light blue on the sides).
3 Additional elements:
1) Aesthetically, rather than end up with a plastic cube type case, I actually wanted to expose the square tube framing—that's the "exo" in Exoframe.
2) Size—since I was hand fabricating the frame, I could choose any size. I decided to go ultra-large to accommodate any future upgrades and additions, especially regarding watercooling elements, which always take up a lot of space. Basically I wanted to build a case where I would never find myself requiring more space.
3) Watercooling—going for a fully inclosed native support for multiple loop/radiator cooling.
.
Last edited: