Well...the time has come to retire my old, old, Apevia case for something new. But...didn't you just mod the crap out of it to hold two radiators internally? Yes my friends, yes.
What spurred me to look for a new case is that my wife's case rattles really bad and its starting to **** her off. I took the opportunity then to upgrade my case, and she will be getting my old one. I will take the water cooling stuff out of it of course, and she will just run it on air. 2x120 intake on the front, 2x80 intake on the back and everything out the top through the 3x120. I hope that will be good enough for her (and not rattle and be very noisy). Typically I like to maintain positive pressure, so I may change up the fans a bit to put higher speed for intake, lower for out (since there are three out).
Anwyays, this thread will serve as an informational build thread as the Element G comes to life. I plan on a custom mount system for my two radiators off the back but we'll see how it goes. I really like the air-flow of the G and I could not pass up the price at Microcenter on it. Its cheaper out of pocket than Newegg even after the rebate. With rebate I'm looking at $89.99 for this bad boy.
Why The Element G?
I've always liked simple, sleek and stylish cases but more and more I've been turning into a heat freak. The more fans the better, so long as they are big and not too noisy. My system is water cooled these days anyways, so whats the purpose of negating the noise effects with crazy high speed fans right?
Top 5 cases I was deciding on
1.) Cooler Master Storm Sniper
2.) AZZA Solano 1000
3.) Antec 902
4.) Thermaltake Element G
5.) NZXT Tempest
Flexible Criteria
1.) Window
I like windows but there are some that I dont' like. A good example is the window on the Antec case. The reason why I like windows is so that you can see the insides, all the lights, the tube routing, and any cool effects the motherboard is doing. Plus...its good to know things like whether or not there is a leak and I can tell that if the reservoir is seeing riffles in the water then I'm good to go.
​
2.) Great Airflow with at least top Exhaust and side intake (for GPU's)
I'm currently folding 3 GPU's for Team 32. You guys should check out that forum and get folding. Gaming rigs are great because you've already got a nice powerful processor and graphics card which make for sweet points per day. Plus...how many hours is your system idle, wasting away. Might as well use that juice right?
The 3 GPU's produce a ton of heat and fresh air is important in order for them to keep cool. Thus, I'd like a slim side intake to help bring in fresh air for those suckers.
​
3.) Mid-stream level price range.
Yeah, I'm not ballin these days. I got bills to pay...so I can't go crazy and buy something like the Corsair 800D although thats a slick looking case. My price range is like $75-125.
​
3.) Sleek, pleasing look.
Isn't it amazing what people are doing with plastic these days. I mean just look at this case...
I can't tell if its a vacuum cleaner or a space ship. If you're trying to hide your computer from burglars, this may be the case for you. Me on the other, would like something resembling the power that the case holds, the raw gaming powa!!! Plus...I do enjoy drooling over a nicely built Lian Li aluminum case, boxy cases FTW.
On that note, no crazy cheesy colors, crazy formed plastic crap, airbrushed anime characters, nothing! Give me a nice black finish!
​
4.) Delight me with a few extras.
Enter the Element G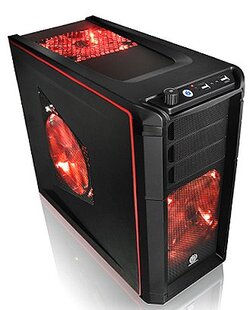 Price: $104.99, $15.00 Rebate. (Microcenter)
I normally don't do rebates, but my wife will take care of it, so we're good.
Airflow:
Intake: Side 230mm fan (GPU Airflow Check), Front 200mm fan.
Exhaust: Back 140mm fan, Top 200mm fan.
Look:
Black with a red stripe. I would prefer a blue stripe, or maybe silver but I guess red is ok. Its subtle but adds to the sleekness of the case, if thats a word. The case reminds me of the storm sniper...which I liked a lot but jumped in price since released. I should have bought it back when it was around 115!.
No Window -
can't win them all. I can always mod the side and mount a window though in the future. I'm not too worried about this criteria as the case meets every other one well.
Extras:
There's the cool colored fan things...I'll probably leave them all on blue but its there for when you're bored waiting for a download to finish or screen to load.
It has a theft deterent thing to keep your peripherals where they belong. If someone breaks into my house, I bet they aren't going to take my keyboard ... of all things.
The front intake can be removed and 2 120x25mm fans mounted instead. This could be a possible place to mount my 120.2 radiator. I like the possibilities here.
Power supply on the bottom, sectioned off. I dont' have a modular PS so this is a good area to put my extra cables, mount my pump and hide everything so it looks good. I like the layout too, with cutouts for routing and of course, everything is black.
____________________________________________________________________
Stay tuned as this case comes to life!
Last edited: