The reason why we Fold has gotten even closer to me than ever before. Nothing like browsing your Facebook news feed one day to find out that one of your friends is forever gone.
https://www.meaningfulfunerals.net/...a4dc8a00a5&CFTOKEN=0&o_id=3899506&fh_id=11763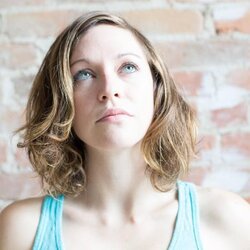 Sad and heartbroken as we are, Nora died beautifully on September 11, 2016, eight weeks after being hospitalized with what turned out to be a highly malignant brain tumor called a Pineoblastoma. She was 27 years old.

Admitted to Lenox Hill Hospital on July 17, she was discharged on August 12, following several surgeries. Her final month was lived joyfully with me (Ron, her Dad) and Suzanh (Mom), brother Teddy, loving sister Juliet, and Nora's husband of two years, Talal Alturki, at our home in Lawrenceville NJ.

Nora was deeply in love with Talal.

She was not fatigued or bedridden during her last weeks at home. In fact, she appeared in every way to be her normal, happy, enlightened self; writing, joking, laughing, singing, dancing, telling stories and taking long walks, which gave her time for deeply appreciating the world. As a BFA recipient who graduated with honors from the NYU Tisch School of the Arts, Nora cracked us all up by spontaneously improvising comical characters, doing impressions, writing scripts and philosophizing about acting, the human spirit and the universe. During this month, Nora appeared to actually transcend this world before she left it.

She shared hugs and kisses every day with all of us, including with visiting relatives, friends and college roommates. There were no tears that last month. Known on social media by her stage name, Nora Fullmoon, as well as for writing, directing and acting in a web-series, Drunk Girls in Heels – The Show, she was always worried about loved ones dying yet fear-free about her own death.

I know it sounds impossible but she never showed us one second of sadness about her potential fate. She remained patient, loving and hopeful even while experiencing constant low-grade headaches caused by aggressive cancer cells. She was about to begin radiation and chemotherapy when she suddenly and painlessly passed.

Talented, beautiful, smart, generous, loving to everyone she met, Nora was the most evolved person that I, and countless others, have ever known. She inspired and influenced every person she met to be positive and better. She loved to write, encouraged everyone to write and had the discipline to write every day. In New York City, riding the subways or walking, she consistently gave to the poor and homeless. She was a supporter of, or donor to, many charities, including UNICEF. If she could, she would tell you to donate something to UNICEF in her name right now.

Nora was the real thing.

To understand how she viewed the world as an old soul in a 27 year-old body, google Emily Webb's last monologue from Thornton Wilder's play Our Town, a classic American parable Nora and I used to read together out loud. I can still hear Nora reading Emily's famous final lines, "It goes so fast. We don't have time to look at one another. I didn't realize. All that was going on in life and we never noticed."

We will be posting an internet video montage about Nora, soon.

For Nora's sake, please forgive, accept and love others and fully realize every precious minute you experience here on Earth.

Memorial donations can be made in Nora's memory to UNICEF, a charity in which she was very fond of.
She's so beautiful and so young, the loss feels so immense. One could only imagine the entertainment she could have brought to our world had she been still alive. RIP Nora Fullmoon.
Keep calm and Fold on.