Are my SLI videocards running too hot AND whats with this flickering in Full Screen...
Specs
Mobo: Maximus V Formula (Republic of Gaming)
Chipset: Intel Z77 Express
CPU: Intel i5 2500K
Video: EVGA GTX 570 HD + Asacus GTX 570 (both 1280MB ram) + onboard Intel HD 3000
PCIe = 2.0 x8/x8
OS: Windows 10 Pro
The Asus videocard is in my top most PCIe slot and the EVGA is in the lower slot. They are are connected by an SLI ribbon. The Asus has 2 monitors connected to it (my main monitor and a secondary monitor at 1920x1080 / 60 HZ) and a third monitor is connected to the integrated motherboard GPU (1920x1080 / 60HZ). There is no monitor connected to the EVGA. In total i have 3 monitors. My intent is to use only the main monitor for games. I dont care for Spanning.
nVidia Control Panel
under 3D Settings >> Configure SLI: MAXIMIZE 3D PERFORMANCE is enabled for the Asus videocard and main monitor.
I turned on the system and allowed it to sit for a few minutes. Current running processes: Firefox, GPU-Z, Antivir, several Google Chrome processes, several nVidia drivers, third party Firewall
GPU-Z and nVidia Inspector report the following:
INTEL HD 3000
ASUS GTX 570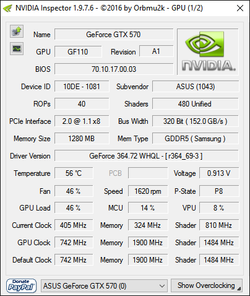 EVGA GTX 570 HD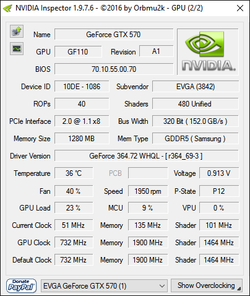 NOTE that the P-State for the ASUS = P8 and the EVGA = P12
I then go to use
Unigine HEAVEN BENCHMARK 4.0 Basic
. The settings:
Preset: Custom
API; DirectX 11
Quality: Ultra
Tessellation: Extreme
Stereo 3D: Disabled
Multi-Monitor: Disabled
Anti-Aliasing: x8
Full Screen: YES
Resolution: 1920x1080
VSync: OFF

When benchmarking the TEMPERATURE for the
Asus = 93'C
and the
EVGA = 75'C
. During the benchmark the P-State for both = P0.
During benchmark:
GPU Core Clock - Asus = 742 MHZ / EVGA = 732 MHZ
GPU Memory Clock - Asus & EVGA = 950 MHZ
GPU Shader - Asus & EVGA = 1484 MHZ
Fan Speed (using Stock Fan) - ASUS = 3900 RPM / EVGA = 2310 RPM
I have the side of the case open exposed to ambient room temperature = 21'C
CAN YOU TELL ME...
1. Is the load temperature for both cards NORMAL? I read the maximum temperature for this video card is 96'C! The benchmark has the Asus climbing to 93'C easily.
2. During the Heaven Benchmark and even the 3DMark test i could see during the demo the sky (and likely everything else) flickering. Its as if there is another layer overtop the entire screen of the sky region and it is turning on and off to create this flicker. This flicker does not occur when in Window mode (same Heaven settings as before, SLI is active) but as soon as i go FULL SCREEN (regardless of resolution or AA) the flicker remains. When i enable VSync it does get much better but there is still a faint problem. Any ideas what is happening here? Is it because the 2 videocards have different GPU Core Clock speeds?
Thanks
Last edited: