Taking a look at yet another Thermaltake product, this time the Tt eSports
Level 10 M mouse.
After using this mouse on my main rig for about a week or so I decided to do
what I call a Buckeye's table top review. I had just finished up a new system
and decided to connect up all my Tt items and give this new mouse a run
through.
So here we go. Spec's on the new system:
Thermaltake Lanbox Lite for a case, Intel 990x with a OC of 4.2ghz,
Intel 180gb SSD, 16gb RAM, 2x 1TB Western Digital Hard drives,
Thermaltake MEKA G Unit Keyboard, Tt eSports Landon Speed Edition
mouse pad, and lastly the Tt eSports Level 10 M mouse.
Yup that's right, as much Thermaltake products as I can throw at it
Now about the mouse.
Keyboards & Mouse's are a very personal thing to me, I am one of those
kinds of people who once I get used to something it's very hard for me to
switch to different things. I used a Logitech Cordless RP67 for a very long
time, it just fit me perfect but I did get tired of having to change batteries
and usually that happened right at the worst time when gaming. Sometime
ago I picked up a Cyborg R.A.T. 7 to replace the Logitech and I hated it at
first, in fact I went back and forth about 3 times until I finally got used to
the R.A.T. 7 and I finally though all was good.
Until… I took a Tt eSports Level 10 M out for a spin.
Looking at this picture you can see the size differences of the three mouse's.
The Logitech was a perfect fit to my hand, the R.A.T. 7 is a bit shorter but
wider and weighs a lot more. I took all the weights out of the R.A.T. 7 and
did the necessary adjustments to make it fit for me. As you can see the
Level 10 M is a bit bigger than the other two and it weighs about the same
as the R.A.T. 7 which is good for me.
Here is the whole system running.
Ok let's get back to the Level 10 M mouse.
The packaging for the Level 10 M is very nice and clean and comes with
everything you will need.
And the back of the box.
Opening the box we find the hidden jewel inside
And inside we find a nice carrying bag and the mouse adjustment tool.
Specifications for the Level 10 M and other information can be found here
http://usa.ttesports.com/products/product.aspx?g=ftr&p=39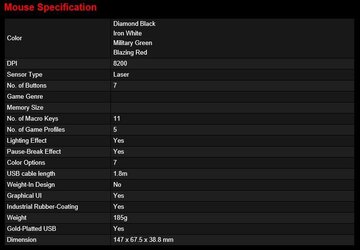 Features: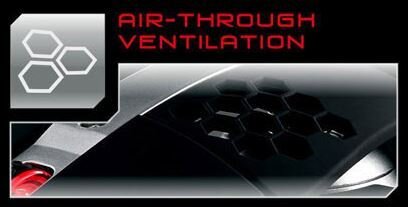 This ventilation solution strengthens the possibility of a better air and
temperature exchange as a means of passive ventilation. Through the
perforated surface, issues such as heavy use of the Level 10 M Mouse and
the rise of temperatures of the hand are significantly reduced.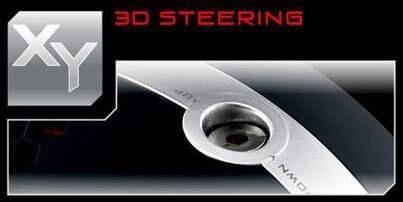 Level 10 M Mouse is designed with open structure in between top and base
segments, and the space in between the mouse also serves to adjust the
height and angle via steering axis, greatly enhance user comfort and
convenience as well.
Level 10 M Mouse is a programmable gaming mouse capable of using the most
comprehensive software application to customize settings based on gamer's
needs. Specifically, the Z key can be programed to switch up to 5 gaming
profiles. Other features such as the polling rate and the 7 lighting-effect
colors are also customizable through software, making Level 10 M Mouse a
truly amazing mouse for pro-gaming and creative needs.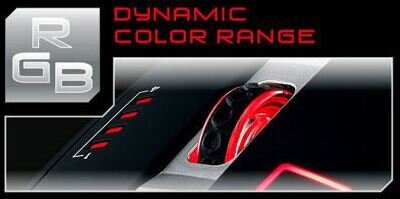 Up to 7 colors to choose from, the Level 10 M Mouse allows gamers to build
up personal gaming atmosphere. Notably, a breathing Battle Dragon can be
found underneath the perforated surface.
Aluminum base is one of the toughest chemical materials with character of
high resistance to corrosion, and commonly used in aerospace industry and
architectural purpose. Level 10 M Mouse is designed with solid aluminum
material to ensure both durability and tenaciousness are constantly
experienced by the users over Level 10 M Mouse's quality and long-lasting
durable experience.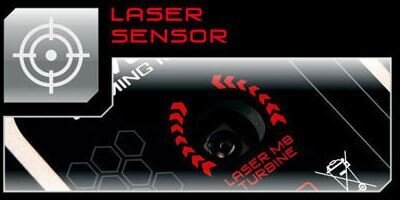 Level 10 M Mouse is equipped with 8200 DPI, adjustable from 800, 1600, 3200
to 5000 (default setting), and customizable by software application up to
8200 DPI. With the LED indication on top of the mouse, gamer is constantly
and visually informed with the current DPI status, and to make change
wherever necessary.
Adjustments for the mouse are rather simple and easy to do. With the
supplied adjustment tool you can adjust the height & angle to fit your needs.
Right out of the box the mouse seemed to fit just fine for my use and did not
require any adjustments.
Installing the supplied software which leads you to further customizing
options.
Light Options. This allows you to change the LED colors on the mouse itself.
The color of the DPI indicator on the right mouse button cannot be changed.
For me Red is my color... Ooh, those crimson rays of ruby bright, Red! Red! I
want red, There's no substitute for red, Red! Paint it red ! oops sorry about
that
Macro Key Options. This allows you to record, load & save Macros.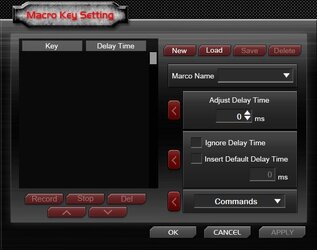 Performance Tab which brings up mouse settings so you can different
aspects of the mouse performance. Lift off adjustment was a new one for
me. Setting this one lower made it if you lift the mouse off the pad the
pointer will spot moving, raising this number high made it so you could lift the
mouse off the pad a bit and you can still move the pointer.
Profile Management. This allows you to set & edit profiles.
You can see on the mouse left side there are two black buttons and a silver
button (Z Key) and on the right mouse side there are two black buttons. The
Z key can be programed to switch up to 5 gaming profiles.
By selecting these button on the mouse control panel you can assign Macros,
launch a program, or assign commands like page up or page down or change
mouse sensitivity by the push of a button.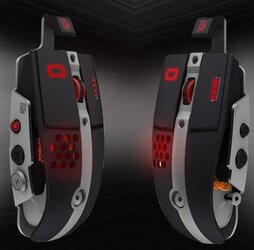 The Level 10 M comes in 4 different colors which is nice when you are trying
to match colors to your case and keyboard or for just personal preference.

Conclusion:
The very high quality of the mouse itself and the packaging are something
that we are getting used to with Thermaltake products and this one is top
notch. The mouse itself is very solid and can handle a person who grips the
mouse like a baseball with no problems and even someone like me who plants
my wrist on the pad and uses finger/wrist action to control the mouse.
The mouse itself was a good fit for my hand and comfortable to use.
Weighing in at 185grams gave it a nice solid feel in use.
When I switched over to the R.A.T. 7 mouse I discovered that the mouse
pad surface was very important to get the right feel of the mouse. In this
case I used the Tt eSports Landon Speed Edition mouse pad and it made the
mouse move very smooth across the pad and gave me very good movement
action when gaming.
The side button placement I found to be back towards my wrist a little bit
too far, I would have liked them to be closer to the front of the mouse for me
to hit the buttons easier. I did compensate for that by raising the mouse
height adjustment which allowed me to keep my hand further back and that
seemed to help a lot.
I did not like that I could not turn off the two black buttons on the left side.
By default they are page up & page down and I found myself hitting these
two buttons at random times to often and when viewing a website I would
page up or down at random times. You can change what these two buttons
do, just not turn them off. After using this mouse for a while I did learn to
not do this, at least as often.
Thanks for reading.