HELLO.
First off, you will
NEED
PowerISO
->
http://www.poweriso.com/
download the latest version, this will be used if you have to install the ISO version.
An 8GB (OR LARGER, 4GB WILL NOT WORK!) USB drive
Any will do, I used one I got for 5$ at walmart.
A Windows 8 activation key.
*PLEASE GET THE ARCHITECTURE YOU NEED* For most consumers, that will be the 64 bit version
You can buy windows 8 keys legally for far cheaper than their 8.1 constituents. I will explain this promise more later.
www.g2a.com
sells legal codes for under 50$ routinely. I have personally used this site many times without ANY problems what so ever. I have friends that do the same. Buy with caution, but especially if you use pay pal, you are fairly protected. If you use paypal, dont bother with "G2A protection"
Ebay sells them routinely
Other vendors do as well
Please be warned of 2 things
1) some sites will sell JUST the DVD with no activation code. Its shady, but read the fine print!
2) some codes are "UPGRADE" codes, do not purchase those UNLESS you already have a copy of windows installed; to which you should stop here and ignore this whole process.
Download Windows Installation Media tool

http://windows.microsoft.com/en-us/windows-8/create-reset-refresh-media
This is a LEGITIMATE PROCESS. This is from windows itself. Simply download the program, we will sort the rest later.
Step 1)
-Install PowerISO, its a good program to have around anyway
Step 2)
- Insert your USB drive into your computer, wait for it to load. Close any pop up boxes
- Open a file explorer (shortcut "Win+E")
- Find your USB drive (double check it is your USB drive), right click and "Format"
- Under format, select format to "NTFS". This will allow you to make it into a boot drive (more on this later)
- Label your drive to whatever you would like. I was crafty and labeled "Windows 8 Installation)
- Proceed with the formatting, and allow your process to finish.
Step 3)
- Open windows media creation tool where ever you downloaded it to
- Select your language (english for most of us)
- Select your Edition, for most cases it will simply be "Windows 8.1" with nothing following. IF you have a windows 8 PRO key, then you will install Windows 8.1 Professional.
- Select your architecture -> For pretty much all modern computers you will have 64 bit. If you have a dual core computer and 4gb of ram, you will definitely select 64 bit.
- Select "USB Flash Drive". If you are having problems with this, goto "Problems" subsection at the bottom.
- Select the usb you formatted, and continue with the process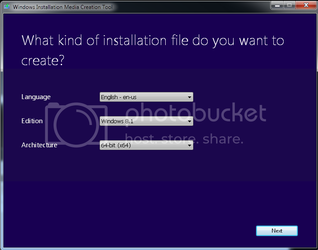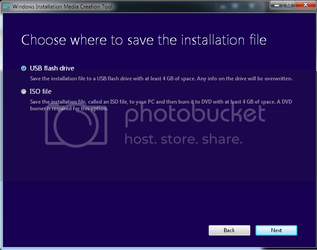 Step 4)
- Have a beer, relax, take a nap... this will take a while
Step 5)
- When everything is complete, open your file explorer again
- Find your USB drive (it should move from "USB" on the bottom to looking like a hard drive up top)
- Open it
- Find the "Sources" folder
- Goto start menu and open "Notepad" program
Copy and paste this EXACTLY.
[EditionID]
Core
[Channel]
Retail
[VL]
0
If you Have professional, replace "core" with "professional"
- Now "save" the file -> it will open the save as menu. Type "ei.cfg" in the "name" and then click the "save as type" menu and select "All Files"
- Verify the file is a ".cfg" not a ".cfg.txt", the .txt will not work.
- Now, take your new "ei.cfg" and right click it and click "copy".
- Go BACK to the USB -> sources folder and open that folder. Right click and say "paste". It should ask for permission, make sure you agree.
VOILA! Thats it. You can now run the USB drive as a standalone windows installer. When you finish installing windows 8.1, you will simply provide them your windows 8 key. There are many tutorials on how to set up your BIOS configs to boot USB drives.
Why this is morally acceptable?
A) windows 8 has no "Standalone" installer, so this is actually the only way to use a windows 8 standalone CD key. (WHY DID THEY DO THIS!!!)
B) Windows 8.1 is a FREE service pack for Windows 8.0
C) Installers are provided from Microsoft themselves, not a third party
D) There is no chance of malware, bloatware, viruses, etc with this method
E) Perfectly legal, given you purchased your CD KEY legally! (Dont pirate! it makes things more expensive for all of us!)
ONE problem you may come across is USB drive wouldn't mount for the media creation tool. This is where power iso comes into play
-> Create an "ISO" if you can't do a USB install
-> You will create the ei.cfg as mentioned in step 5.
-> Open Power ISO and load the ISO you created
-> copy the ei.cfg into the "Sources" folder, same as before
-> then save the ISO
-> From there, goto "Tools" on Power ISO, then click "Create Bootable USB Drive".
-> select your windows ISO
-> then mount the iso to the USB, and then click "Create".
-> you could also burn the ISO to a DVD Drive and proceed as usual.
Good luck, here for questions.
Few things
1) Yes its legal
2) YES it works
3) You dont need ANY OTHER PROGRAM to do this. Just what I had listed. It's quick, easy, and the cheapest you can get a standalone version of windows for.
Last edited: