Joined

Apr 7, 2016
Location
Hello Everyone! I've decided to make a thread about Two R7 240's in Crossfire cause i didnt find any thread on the internet about it. Hope it will help some people and be an interesting post. If i forgot to test something or you want to know the results in some particular game or benchmark feel free to ask!
Heaven Benchmark 4.0
Heaven Benchmark Preset : API DX11, Quality ultra, Tessellation disabled, stereo 3D disabled, Multi monitor disabled, Anti-aliasing x8, Resolution 1680x1050 (my monitor's default resolution).
Heaven Benchmark results Single Card : Score 208, Min FPS 6.3, Max FPS 13.7, Avg FPS 8.3.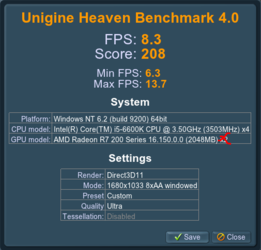 Heaven Benchmark results Two cards/Crossfire : Score 334, Min FPS 8.2, Max FPS 27.1, Avg FPS 13.3.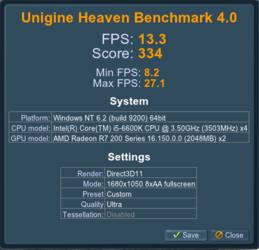 NOTE! The Crossfire setup utilized 70% to 95% only, I dont know why this is happening but i think its because GPU's in Crossfire and SLI utilize only about 70% to 80% of their power. If anyone knows why, Please tell me/us.
FurMark
FurMark Preset : Resolution 1680x1050, Anti-Aliasing x4.
FurMark results Single Card : Score 172, Min FPS 3, Max FPS 4, Avg FPS 2. (U wot M8? How's the average FPS between 3 and 4 is 2?)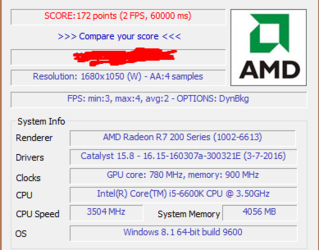 FurMark results Two Cards/Crossfire : Score 327, Min FPS 6, Max FPS 6, Avg FPS 5.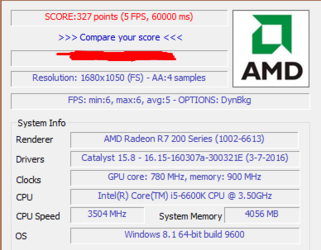 NOTE! This Benchmark utilized 100% of both cards!
Battle Field 3
Battle Field 3 Preset : Resolution 1440x900, Textures Ultra, Shadow high, Effects high, Mesh high, Terrain high, Terrain decoration high, Anti-Aliasing deferred 2xMSAA, Anti-Aliasing post medium, Motion blur on, Anisotropic filter 8x, Ambient occlusion SSAO
BF3 results Two cards/Crossfire : Min FPS 35, Avg FPS 49, Max FPS 64. (Operation Swordbreaker)
Fire Strike Results Single Card : Graphics Score 1548, Physics Score 9378, Combined Score 569.
NOTE that Fire Strike didnt recognize my driver somewhy

But it worked fine.
SYSTEM SPECS :
CPU : Intel Core I5 6600K
[email protected]
MotherBoard : MSI Z170A PC MATE
GPU : Two AMD Radeon R7 240's
RAM : Corsair Vengeance LPX 4GB 2400MHz
Cooler : Noctua NH-U9B
SSD : SanDisk 128GB (SDSSDP-128G-G25)
HDD : Samsung 500GB
PSU : Antec BP450S
OS : Windows 8.1
Thread is not finished! I will update with more benchmarks and game benchmarks soon! stay tuned. More benchmarks and game benchmarks will come soon! (Cinebench, BF3, Insurgency, Ect.).
Last edited: