Joined

Nov 16, 2007
Location
Well let me start by saying that I do not expect every one to like the case I am building. I am a amateur sculptor, so much of the things I build has my unique artistic flair to it. So if you don't like it, I don't mind if you say so (and why would be nice) but PLEASE don't be rude about it.
This project has been gradually forming in my head for nearly 5 years. The catalyst that started the whole thing was finding an old dual blower fan in a scrap pile in a barn that was to be razed.

All though the idea of using the blower to cool a computer was there for years the idea did not become a reality until late 2008 with my first attempt to use the blower. (see this
thread
for details of that attempt). I used that setup for for a few months and it worked well. But for multiple reasons, I did not keep that setup. None the less it started the thinking process that has led up to this current build.
My goals "ARE" (since it is still in construction as of 12-2-09):
Fully functional case.
Low noise.
Fully filtered air flow.
Exceptional Cooling.
Low cost (the Demand of the wife

)...SO...
Use parts I have or can scavenge.
And a fun project to help clear my mind during a stressful life transition.
(will explain on request via private message)

Could not resist taking this picture...that is my daughter... and the foundation for the motherboard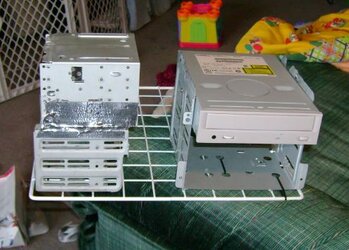 Current space for 6 Hard drives and 3 DVD drives and one floppy (case has room where a 2nd 6 hard drive cage could be installed later)
Frame completed. Since the PSU will be completely inside the case, I wired the case independent with it's own plug and master on off switch. Since the Blower is AC, it needs a relay to turn it on and off (see first blower thread ↑), that is the yellow part.
Last edited by a moderator: