Hi all,
I've been trying to reassign my orange, black and grey audio jacks as Line in and Mic In jacks for streaming. I found a tutorial online which seems to
kinda
work, but I've got a bit stuck.
Tutorial Link
Okay so I've got the orange jack working as a Line In (Aux) jack, but for some reason the new black and grey mic jacks just won't behave themselves.
Here's where it gets interesting though
The original (pink) mic jack works, but if I try and connect anything to the grey or black jacks they all stop working, including the pink one, until a restart. I'm guessing this means connecting the new jacks somehow causes a driver crash which doesn't fix until they're reloaded.
Also, the black and grey jacks both show seperately in the Realtek Audio Manager sidebar, but are both displayed as a single device in the Realtek window and in Recording Devices.
Finally, I do get some noise through the inputs when plugging in the mic, as well as the humming caused by the keyboard's passthrough jacks (and yes, I did try it without the keyboard connected but with no luck)
So that's about it, heres some pictures which hopefully explain the situation better than I can;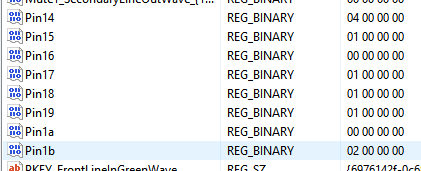 Here's my current values for RegEdit, which seem to be correct AFAIK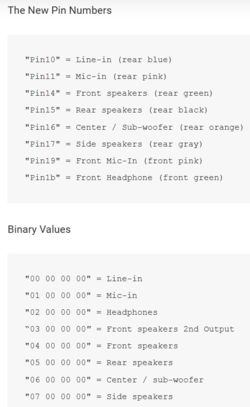 Here's the key to work out the picture above it (just in case anyone's a bit wary about clicking the tutorial link)

So these both seem to be identifying as Keyboard Mic, if I rename one the other gets renamed too and they both open the same tab in Realtek Audio Manager
If you've read this far, you'll probably want to know the usual stuff, so here it is:
MB: Gigabyte 990FXA UD3 R5
Drivers: Realtek 6.0.1.7553 (Gigabyte rebranded version from the disk. I tried installing the standard Realtek ones ages ago but Win10 kept replacing them)
Also maybe worth mentioning I'm running all audio directly from the motherboard, I've completely disabled HDMI audio from within nVidia control panel
So I'm pretty much stumped at this point. Maybe it just plain isn't possible cause of the PCB design or something?
Anyway, any help is really appreciated