Joined

Oct 29, 2005
Location
ROOT ONLY!
Warden is a new ap built by the dev who makes Aurora Store (free google playstore alt.).
Warden scans for trackers and loggers within all installed apk's on your phone.
You can manually scan for and then disable these, or use the "Nuke It!" option and it will scan every apk, disable what it can, and stop.
Options for 'clear', 'hide', 'uninstall', and 'disable' of any apk on phone. Clear will reset an ap as if it was just installed so don't do it unless you want to start over. Uninstall didn't seem to work for me. Disable will disable the ap AND hide it from the system 'Applications' settings. I noticed I needed to restart the ap to get it to give me the 'enable', 'unhide' options after having disabled anything. I assume hide will just hide it but generally I either disable or remove an ap altogether so I haven't really used it.
The "Lab" button
There are a few scripts for different devices incl. one for aosp and google to "De-bloat" with 3 options for debloat itself you can download from the website page. Uninstall disable, or hide. Debloat didn't work for me. I copied the text from the download, created a new json file and edited it to show the contents, created a 'Warden' folder with 'Profiles' subfolder on root of phone (internal storage), put the json in there and then Warden's De-bloat function worked but didn't do anything other than tell me google didn't exist (It doesn't-I use fakestore to begin with lol). I also tried the aosp script-debloat as well and even though it showed me I had the apk's installed it didn't appear to uninstall anything either. Oh well.
My phones pretty well locked down to begin with and I only found a few trackers and loggers I was able to disable. Some aps just told me they were there with no ability to do anything. Obviously some aps require the internet to function so it really on depends on the servers to begin with.
Pretty cool ap really. Has a link to Exodus Privacy checker but that also didn't do much when I searched "firefox". Said 'no report'. Still a very new ap but definitely a keeper, if you root of course.
I look forward to updates. Aurora store is my goto for anything I have installed not on fdroid.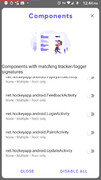 https://forum.xda-developers.com/android/apps-games/warden-app-manager-t4122227
Warden v1.02 (6.18mb)
Last edited: