I'm going to be adding WC to my setup(in my sig), but have already made one costly buying error in buying the case with Thermaltake's built-in water cooling. I've decided not to use the TT kit, and to purchase a whole new custom kit listed below...
Koolance CPU-350
Black Ice GT Stealth 280 rad
(2 X 140mm fans)
XSPC X20 750 Bay Reservoir/Pump combo
1/2" ID tubing
For now it will be CPU only, but I have a few questions. First, is there any disadvantage to going with the 140mm rad vs the 120mm? Fan selection or noise, maybe? Or just a more efficient 120?
Also, would I be better off doing a separate pump/reservoir? Being able to check the flow on the front of the case seems important, are there other better options if this is not a good one?
And last, the rad will be on the bottom of the case. My case air flow is currently front to back with no fans on the bottom, one fan on the door which I may eliminate and one fan on top blowing out. By putting the rads on the bottom, it would mean all the incoming air flow would be coming from the front single 140mm fan. Would there be a problem with reversing my top fan and having my air flow entering the top and front and exiting the bottom and back?
Thanks in advance and I'll be posting some pictures soon. Just waiting for a new case top. My original one was damaged in shipping and TT shipped it the morning I reported it. Very good customer service! As for their WC kit... Hmmmm what around the house needs to be water cooled?

Maybe the dogs water bowl?
For your viewing pleasure...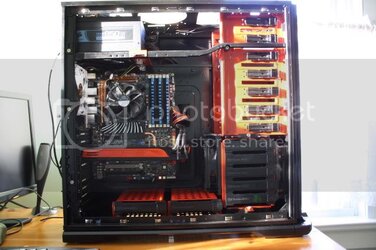 Last edited: