c(n*199780) Senior Member
I have purchased
https://store.ui.com/products/unifi-6-long-range-access-point
for $179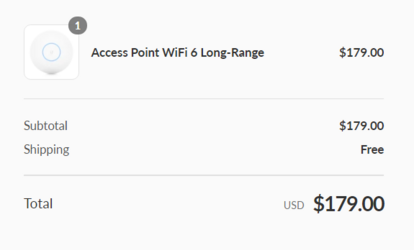 First and foremost, sincere thank you to Janus67 - a true visionary - who gave the best answer straight away.
So do not look for Ubiquiti elsewhere, their official store is the only place to get these - everywhere else they are SCALPING you, including on Amazon.
Second - the $350 HD is probably overkill - so that really only left these three models:
U6 Lite $99
U6 Pro $149
U6 LR - Long Range $179
=============
Both the Lite and the Pro are sold out currently - even if you can find them elsewhere - but that means the prices are going to be scalper prices - so you are paying 50% over MSRP for them elsewhere. There is no choice in December 2021 - only U6 LR is realistically available, for $179.
Finally, if you don't have to - maybe don't buy now and wait for the Wi-Fi 6E as "current products are a stopgap cash grab."