So I was reading through the
Anandtech review of Ryzen 5
. (Gotta give props for their gaming benchmarks, for there are four GPU, each at two resolutions, for each game. That's a lot of work.) That's when something caught my eye. There are some weird differences between how Ryzen performance with Nvidia vs AMD graphics cards.
First I'm looking at the Rise of the Tomb Raider benchmark. With a GTX 1080 Intel beats AMD as usual in gaming benchmarks: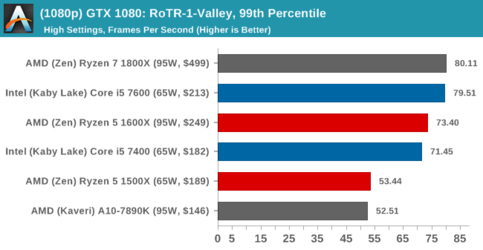 The i5 7600 has a 8% lead in 99th percentile over the R5 1600X. But then I scroll down a little bit and get to the R9 Fury results. Sure, its a slower graphics card so you would expect the difference to shrink as you are more CPU limited. But I wasn't quite expecting this: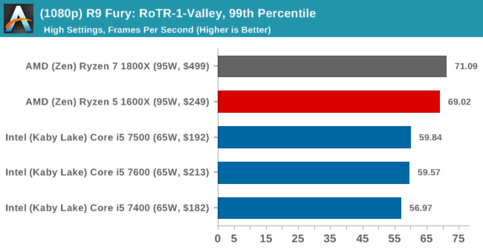 Suddenly the R5 1600X is 16% ahead of the i5 7600? That is really turning things around.
But wait, there's more!
Let's flip to the next page and have a look at Rocket League numbers. First with the GTX 1080: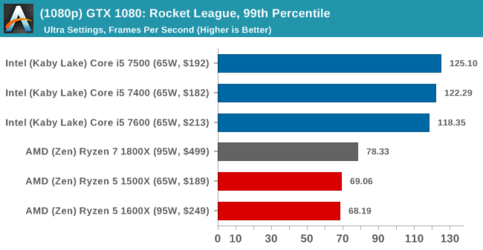 Ouch! The i5 7600 is 74% ahead of the R5 1600X. That's not just loosing, that's getting stomped! So, let's scroll down and check out the R9 Fury results: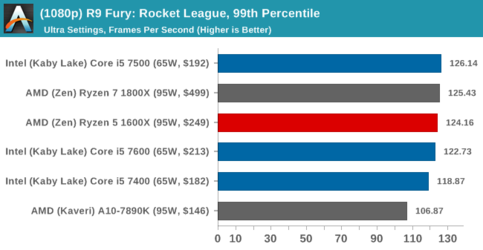 What is going on here? Now AMD is in the lead again, with a small margin on 1%. Now you are thinking: Of course, a slower graphics means its GPU limits and they are all going to be about the same. That doesn't mean anything. But check out what actually happened to the FPS. The R5 1600X jumped from 68 FPS to 124 FPS by switching to a slower graphics card!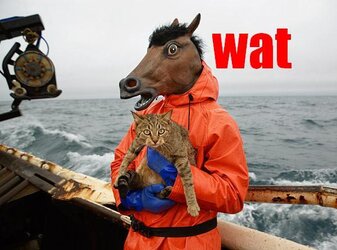 That is an 82% jump. There is something seriously weird going on with now Ryzen is performing on Nvidia graphics cards.