Whats your Intel LGA775 stock HSF base made from ? Copper or Aluminium ? *UPDATES*
For those who still insist in using Intel LGA775 stock HSF, if you got a Aluminium core version, you better find your OC-er friends and ask for theirs if they got the copper core version. I assume most of them will give it or sell them cheaply.
I know, most OC-er never use them, just curious, is yours Copper or Al base ? And what CPU it came with ?
Just helped a friend (not an OC-er) recently on his new boxed retail E2140 and noticed that the Intel stock HSF base is Aluminium instead of copper.
Fyi, I own two un-used from old D805 and D925, both are copper base. Run some few quick testings (not thorough) with AS5 on both and found out that the copper base beats the aluminium by 3 C cooler on average ! Anyone can confirm this ?
Also the el-cheapo Al base feels lighter and looks cheaper too, I can't explain it but seems like the finishing is worst than cooper one !
Two pics which are copper (left one) and the new one (right) with aluminium base l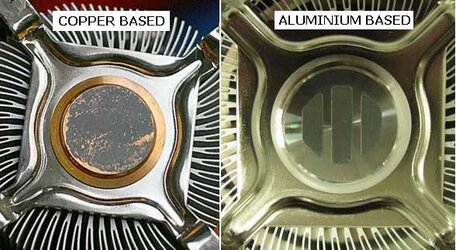 Looks like Intel is trying to save some money, and it ends up I gave mine to my friend since its better.
Update :
Since I got my friend's crappy Aluminium core one, was curious and yanked out the fan and here is what I found !!
This Al core version is even crappier than I thought !!
No wonder it beaten by the copper core version !!
Here, some illustrations for better explanation for what I found, the cut view.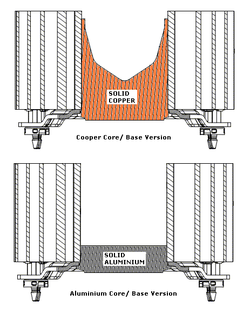 -
Last edited: