I got curious about where the writes to an SSD really comes from. So the other day I setup Process Monitor to capture a trace of all writes to my SSD and left it running for 24 hours (in reality 24 hours and 16 seconds). There was some surprises in there so I thought I would share my results.
The Setup
[email protected]
on a P8P67 with 16GB DDR3-1333 RAM.
Radeon HD
[email protected]
/1100MHz
Intel 320 300GB SSD plus various hard drives.
I have moved My Documents, My Music, My Pictures, My Videos and Spotify's cache folder to a hard drive. Windows, all programs, all games are installed on the SSD. Except for what I moved all user profile stuff (appdata and such) is on the SSD.
I avoided doing anything crazy that would produce a lot of writes like Virtual Machines, Mathematica or Bitcoin. Mostly what I did was surf with Firefox, play BF3 and fiddle with what I am supposed to be working on in Word. I had a x264 encode running in the background but it did all its reading and writing to a hard drive.
The memory usage stayed modes throughout the test, around 5 GiB.
The Results
Total amount of data written was: 26.6816 GiB
I made a bar chart of the processes that wrote the most. It is cut off at 50 MiB.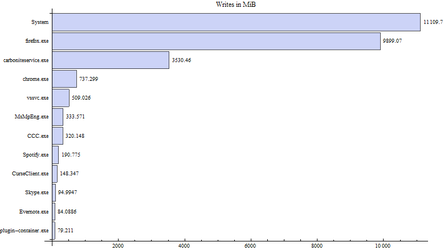 System comes out at the top of the list. This did not surprise me. I was expecting windows to be the biggest writer.
Firefox on the second place did surprise me though. The amount of writes it put out is almost the same as System. Also, I should mention that I have moved the Download folder to a hard drive so any download I've done is not part of the writes seen here.
In third place is carboniteservice.exe. That this one did lot of writes did not surprise me. It is my cloud backup solutions and I have it liberally updating everything in my user folders so it constantly needs to make note of what has changed and needs to be updates.
Chrome did more writes than I was expecting. I do all my surfing on Firefox because of its better handling of large amounts of tabs. The only thing I had open in Chrome was BF3's battlelog since I've had some problems with it in Firefox Aurora.
Volume Shadow Copy Service, vssvc.exe, did produce some writes but not anything exceptional.
MsMpEng.exe is Windows Security Essentials, Microsoft's free Antivirus solution. That it produced a bunch of writes is not a surprise. It is still quite modest.
That CCC.exe, Catalyst Control Center, show up amongst the top writers was a surprise. It only wrote to two locations: C:\ProgramData\ATI\ACE\Profiles.xml and C:\Users\admin\AppData\Local\ATI\ACE\Profiles.xml. I have no idea why it is doing this.
Spotify still did end up producing some writes to the SSD even though the cache was moved to a hard drive. I was playing Spotify a good chunk out of the 24 hour test.
The Details
I made a chart of the most written to files of System in hopes of figuring what it was doing. It is cut off at 100 MiB:
The thing that dominates this chart is the pagefile. At no time during this test was I memory constrained. I seems like Windows does make extended use of the pagefile even when it has gobs of RAM to work with. Not what I was expecting.
Many of the other locations written to by System are the same as written to by Firefox, Chrome, CCC and Spotify. Some sort of management maybe?
Then there is the $LogFile, $Mft and $BitMap, which all are part of the NTFS structures. For the record the total writes by all processes to those three is 1349.52 MiB.
I also made a similar chart of the most written to locations by Firefox. This one is also cut off at 100MiB:

The session file tops the chart. This immediately gives a clue as to what is causing Firefox to write so much. Eyeballing the trace it looks like firefox is writing the session to disk every 30 seconds or so. Crash recovery! Firefox will restore a session after a crash. In order to do that it has to write the session to disk. It apparently does this every 30 seconds, and combine this with the fact that I have a large session of 100+ tabs this means ~1.5 MiB of writes every 30 seconds.
Writes to the SQLite database files for cookies, webappstore, places and urlclassifier happen on the same frequency, presumably as part of the crash recovery as well.
Since writes to the cache by Firefox is spread out over multiple files it would not show up in this chart. So I added up all the writes to the cache folder, and that is 165.54 MiB. Not a significant part of total writes.
I found this interesting so I thought I should share.