Unfortunately, a almost fresh Windows 10 install, and the download folder+ any user data is only around 7 GB including any backup stored on another partition. So this means, the OS itself is using about 37 GB data (including any program data), in a almost fresh installation. Try out this stuff on a phone or baby-table and you are gonna become space issues at some point... and
this OS was made with use for very small devices in mind
, so it should not be a space-leecher. Unfortunately, it seems to be a space leecher to me.
Now, how did this happen? Well, the basic OS was about 16 GB. Then i was updating the OS to Anniversary edition, and the new OS is about 15 GB. Now Windows had in mind... oh we got so much space left and so much joy sitting on the 950 PRO, so let´s just keep both versions of Windows on the drive forever. Basically i had a old Windows and a new Windows, 2 different OS in theory.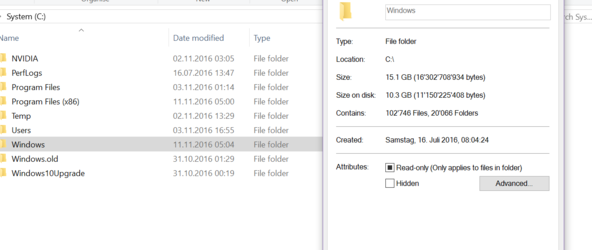 OK... now i tried everything i can in order to remove old OS but i was not "attacking" the folder directly.
Those are critical system files after all, so
Windows should execute a own management in order to remove it by using the cleaning-tool
. Bu the problem simply is,
Windows cleaning tool is not allowing it
... i tried everything i can and am now out of ideas.
Any possibly helpful stuff is appreciated.