Babysitter for OCF Lounge Day Care, Still a bad-as
Joined

Apr 3, 2015
Location
So I find myself on the precipice of absolute greatness or utter failure...
I have decided, with some prodding by Lochekey, to make my own cables, kinda, for Father Time. (sig.)
( I got a bunch of the individually pre-sleeved wires)
So it should be pretty easy and straight forward, except where you have to go two-wires to one pin.
I couldn't find any pre-sleeved wires like this, but I can overcome this...
And I have the adapter figured out for the mobo 18x10 to 24 conversion, I think...
This brings me to looking at the 8x6 pin PCIe connections for the gCards and my question.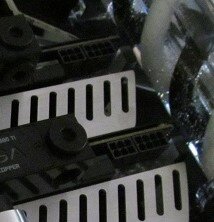 I have a beast of a PSU
and was thinking that instead of running the 6-pin piggybacked off the 8-pin for each gCard..
Like we see on all stock psu cables. (and avoiding having to make this pig-tail cable)...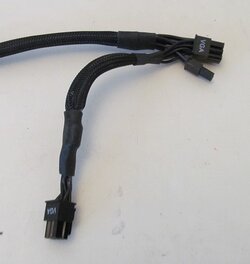 That I could run all connections independent off of their own port on the PSU?!?
(God knows there are enough)
I stumbled onto this idea while researching the wiring/pin-outs/etc...
Somewhere it stated that the 6-pin was added solely to provide additional power needed by newer cards and overclocking...
It seemed to me if this was the case, not sharing the juice with the 8-pin would be beneficial?!?
So is there a difference/advantage/disadvantage between the 8 and 6 pin sharing the juice off one PSU evga port using a pig-tailed connector...
or wiring each one independent to the psu..?
Especially considering I plan on pushing this set-up as far as it will go.
Thanks for the expertise!
Luego