---

Projekt: "

Arctic River

"
Idee
: We love arctic colours (and baby seals, but a plushy PC was not an Option... #PETA
). That's why we have chosen this as inspiration:
​
For this project we have some amazing support from the manufacturer and from some specialists on craftsmenship side
For this project we have got this hardware:
Watercooling: Aquatuning (Partlist will grow with the worklog)
Case: be quiet! Dark Base Pro 900
Powersupply: be quiet! Dark Power Pro 11 l 750W
Mainboard: GIGABYTE GA-Z170X-Ultra Gaming
CPU: Intel Core i7 6700k
Memory: Crucial 4x4GB Ballistix Elite
SSD: Crucial M.2 250GB
GPU: Nvidia GTX1080 (Manufacturer will follow soon )
The mods will be done by us -
Akvodio Computers
- and with the professional help from our partners:
Here a little overview for you whats coming up:
Step: The nice, little i7 6700k will be locked up and beheaded

[completed]

Step: The case will be put up side down. Dismantel, mod, paint.
Step: Even the PSU will not be spared. Dismantel and a new paintjob.
Step: Our mainboard will be a victim of the screwdriver as well
Step: Watercooling
Step: Press the button and wait for it...

But until then, here are some pictures for all of you who like see rather then to read.
Insert some drummroll please: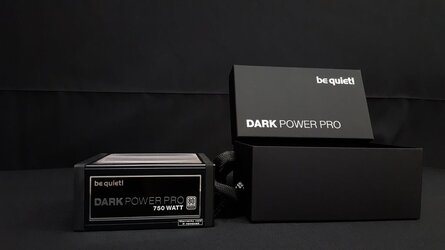 Update 1:
Just to answer the 'Why' question in advance: Yes, it is worth it.
We delid the CPU to improve the heat transfer between the CPU and the heat spreader.
To eliminate most of the risk to destroy our CPU we used the Delid-Die-Mate. Its easy to use and the perfect tool for this job. But now the real work starts.
To get the perfect result we need to get rid of the old silicon from Intel with a razor blade or a credit card. The thermal compound disappears with some alcohol. Now the heat spreader needs to be sanded down and polished to a mirror finish from the inside and the outside.
When we were done, we had the perfect finish. Now the heat spreader is flush with the CPU and we can use liquid metal for the heat transfer. The last step is to glue everything back together with some heat resistant silicone and enjoy much higher overclocks with lower temps.
We tested our CPU on our Mainboard with air cooling with 4,83GHz and 1.28V (nearly stock voltage).
With water cooling we hope to get past the 5,0GHz mark.
Stay tuned for future updates!
Your Akvodio Computers team, Timon und Marcel
Last edited: