Hello guys!
This is my last Project "CERBERUS" buided in 2011 (i7 990X@5Ghz/ EVGA E760 Classified/ 24Gb DDR3/ 3x EVGA GTX580/ 1500W PSU)...
I have posted it here:
https://www.overclock.net/forum/61-water-cooling/1165812-cerberus-3-way-sli.html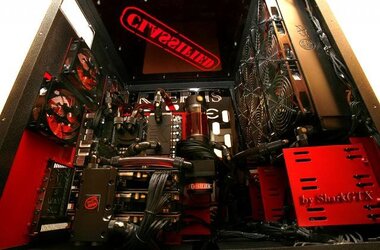 From that time I obviously builded systems, but I not had an inspiration to build something WOW. But now I have it. So lets start to do crazy beauty!
I want to start a blog about my new upcomig custom rig. This build would be a hybrid between professional and gaming pc. This system would be within unique custom modded giant case, with crazy watercooling, only black color with tons of RGB and with huge triple professional monitor setup!
It names...
I have already bought all my hardware, and waiting for the case mod. It would be finished in 1 week and I will start a building.
So, I want to show you the spec list of my upcoming build:

[HARDWARE]
[CPU]: Intel Core i9 9900X @ 5Ghz
[MB]: ASUS Rampage VI Extreme
[RAM]: G.Skill TridentZ 64Gb 4200Mhz (stock is: 19-19-19-39 / 1.4V)
[GPU]: 2x AORUS GTX1080Ti WaterForce WB 11G [SLI] @ 2100Mhz core on stock voltage
[SOUND]: Creative Sound Blaster USB X-FI Surround 5.1 Pro
[SSD]: Samsung 970 Pro 1Tb + Samsung 860 Pro 2Tb
[HDD]: 3x 6tb Toshiba X300
[PSU]: SuperFlower Titanium 1600W

[CASE] - HYDRA™
Completely modded*MM Extended Ascension*+*MM Pedestal 24
I have changed 80%+ of this case, and I need it because of its giant size! Almost 1m high.
[MONITORS]
Triple wall mounted professional setup for color grading and gaming:
27" DELL UP2716-D
43" LG 43MU79-B
27" DELL UP2716-D
[PERIPHERALS]
1) ASUS ROG Claymore + ASUS ROG Pugio
2) Logitech G19 + Logitech G700s
*Logitech Wireless Gamepad F710
*ASUS ROG Scabbard (Game surface)
[WATERCOOLING]
[CPU/MB]: EKWB EK-FB ASUS ROG R6E RGB Monoblock - Acetal+Nickel
[GPU]: AORUS Integrated Full-Cover Waterblocks
[RADIATORS]:
*3х 360 TFC xChanger 360
*2x TFC MONSTA Limited Edition (2/350 in the world)
[PUMP]: 3x D5@24V
[TOP]: Bitspower D5 Pump Mod Top V2 + Bitspower D5/MCP655 Mod Kit
[RESERVOIR]: EK-RES X3 400 + Koolance RP-452
[TUBE]: XSPC Clear 3/4"/1/2"
[FITTINGS]: BitsPower Rotary / Dual Rоtary 3/4"/1/2"
[FANS]:*
*12x 140mm NoiseBlocker PK-3 800-1800rpm
*27x 120mm CoolerMaster XtraFlo 800-2200rpm
*2x 120mm NZXT AER RGB]
[CONTROL PANELS]
*2x Lamptron FC5v2
*ASUS ROG OC Panel v2
*Koolance TMS-200 + Extender Board

This post is only beginning. To be continuous
Why LGA2066 and Core i9 9900X?
As I mentioned before, this is a hybrid of professional graphic workstation and gaming PC. I am a professianal color grader and visual fx creator. But also I love to play in 4K / 60fps on Ultra settings in my 43" center monitor)
Thats why I choosed the LGA2066 and Core i9 9900X with can OC to 5+Ghz under a VERY powerful Water Cooling!
The ROG Rampage VI Extreme
has an incredible power and overclocking stability, especialy with watercooling.
Which alowes me to recieve a great workstation performance, and in the same time a gaming performance even better than 9900K
With i9 9980XE I will NOT get this frequency and this gaming performance...
The reasons of LGA2066:
*This system would be a MUCH more powerful, than i9 9900K + Z390 in my work
* Equal CPU frequency in overclocking (you just need a better cooling solution, but I have it!) and equal or even more gaming performance!
* 2 more cores in CPU in my i9 9900X
* More cache in the CPU
* 44 PCI-E Lines in the CPU, to get a full potential of SLI
* 8 slots / 4 channel / 4200+ Mhz Memory. Now I have a 64Gb, but in future I will can do 128Gb
Why 2x GTX 1080Ti in SLI and not a RTX 2080Ti or even RTX2080Ti in SLI ?
Because I'm using ONLY watercooling and I dont want to use ragular air cooled GPUs, and if I want 2x 2080Ti in SLI with integrated full-cover waterblocks - it would cost me a 3000+$ It's insane!!! The performance which I will revieve - woundn't cost such money...
I bought 2x rare AORUS Extreme GTX1080Ti WaterForce WB 11GB with only 1200$ and the performance that I recieved is MUCH more than with single RTX2080Ti and them cost me less, then 2080Ti with watercooling cost!
Here you go some photos of my GPUs:
And here you go tests with 2xGTX1080Ti VS 2080Ti

Even a ragular 1080 in SLI in more powerful than 2080Ti
Yes, there some games without SLI support, but in fact... to play them in 4K - the single 1080Ti with is more than enought!
So I guess that 2x1080Ti in SLI is an ideal for today, till the next gen of RTX GPU will arive!
About the RAM
Well, I have a interresting story about it...
In the beggining of this project (on the idea creation stage) I wanted to buy a 32Gb 4200Mhz Corsair (4x8Gb) because I wanted to buy a 9900K, before it has arived and become so hot (temperatures) as it is.
Yes I have more than enough cooling for even 1.45V 24/7, but this is just mainstream CPU with low cash and only 16x PCI-E lines... What the f... it is so hot?! *And in addition to this, that 9900K CPU is a peace of crap in workstation. And 32Gb RAM is also not enough by the way.
Thats why I decided to buy the TOP-end DDR4 RAM G.SKILL TridentZ 8x8Gb 4200Mhz (19-19-19-39 1.4V) and LGA2066 with i9 9900X.
And this is it:
Now I have a RAM, which alows me to work well (64gb) and do gaming and overclocking (4200+Mhz on 19-19-19-38 1.4V).
I am happy!
About SSD and HDD for Data Storage
As I working with VERY "heavy" videos files - I must have a very fast primary SSD for my system amd software, and big amount of data storage (on HDD). But, I'm also love to play games, and that's why I must have big capacity of SSD for installing my games on it.
I choosed this hardware: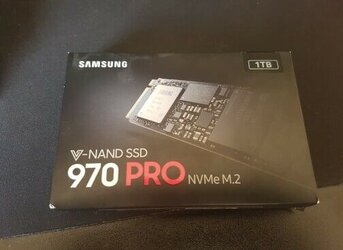 So, now I have a decent configuration of SSD+HDD for my working and gaming!
[PERIPHERALS]
As this setup would be graphics workstation + gaming battlestation, I must have a decent keyboard and mouse for work and gaming.
Of course, I have a professioanal graphic tablet WACOM for my work. but when I working in DaVinci Resolve - I did it with [keyboard + mouse] combination.
But there is one problem:
Keyboard and mouse that is very convenient for working - not always convenient for gaming, and vice versa...
Bacause of this, I must have two different couples of that stuff.
I have my combination of Logitech G19 keyboard and Logitech G700s mouse for a long time and I love it. They are so convenient for working, but they are not so modern as new RGB keyboards and mouses.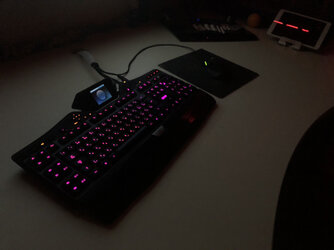 So, I decided to leave these couple of stuff for working and to buy a new couple for gaming. I choosed a ROG Cleymore + ROG Pugio (if I dont have a G700s - maybe I make my choice to ROG Spatha, but its so heavy as my G700s). And I bought a huge ROG Scabbard Game Surface to fit them well.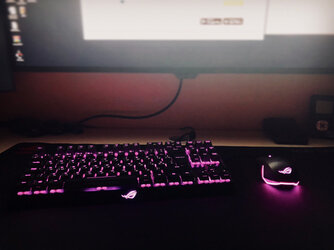 In addition, I must have a good wirelles gamepad for gaming on my 4K 84inch TV (for example for racing, sport games and fightings). I understand, that it's better to buy racing wheel for racing games but I am not so fan of this genre - to buy separate stuff for it.
Two my mouses (Logitech G700s is wireless, but also it work with wire, without battery):
About the triple monitor setup!
And exactly HERE - the Workstation priority of my system is coming into the first place!
I must have a decent monitor setup for my work, but I dont want to build a standard straight triple monitor setup, as almost all are doing
(3x24"-3x27").
I decided to buy a giant
43 inch 4K AH-IPS Monitor LG 43MU79-B
as a primary center display to get a huge desktop workspace in DaVinci Resolve software.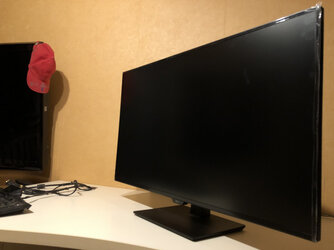 But this software also support dual screen mode (secondary display is responsible for showing me additional information, like a graphics, diagrams and rgb color bars). And also I must have a third display, that show me a references and technical task.
Two additioanal monitors are: 27 inch 1440P DELL UP2716-D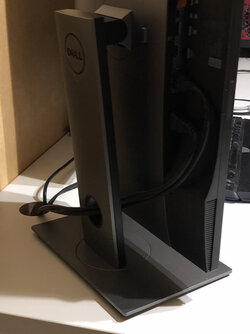 So I choosed the [vertical 1440P P-IPS 27" + horizontal 4K AH-IPS 43" + vertacal P-IPS 1440P 27"] display formation.
And I had to hang them on the wall because the center display is VERY huge I have to move it deeper to the wall to give more comfort for my eyes!
All these displays has a very good IPS for color grading and working with video and identical pixel density (114ppi) and its great!
And this IPS gives me a beautiful colors in games. Wonderful!
By the way, yes these monitors has only 60hz (not 120hz and more), but this is monitors for professional use, and single play games, not for the cyber sport! And I'm not a cyber sportsman! I just playing for myself in single play games. And ONLY in 4K. And show me please, which GPUs can produce 120fps in Ultra + 4K. You can't? Of course you can't, because there is no one!))) And stable 60fps is all that you need in single player.
Sound and PSU
I have to say, that I don't really care about the sound. I have an external sound card from Creative with big Senheiser radio headset and that's it)
Also I have an old music center Panasonic from 90ths (placed inside the desk) and I am using its acoustics (under the desk) via AUX + my Sound Card. The sound quality is good! I don't want to change something).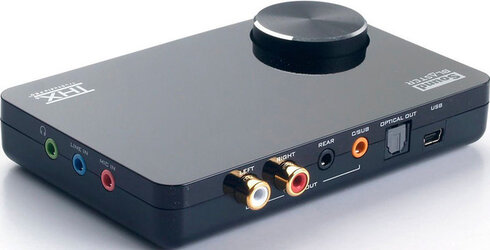 About the PSU: I have my Enermax MaxRevo 1500W from 2011th and I don't want to change it. I like it)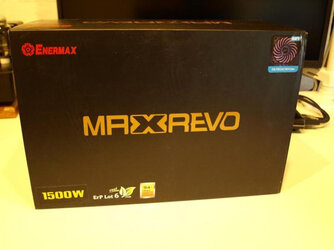 Fans, Fan Controllers, Wires and ROG OC Panel
All these stuffs are connected, that's why all of them would be in one post.
So, let's go:
[FANS]:
*12x 140mm NoiseBlocker PK-3 800-1800rpm (placed on 2x radiators in push-pull configuration)
*27x 120mm CoolerMaster XtraFlo 800-2200rpm (placed on 3x radiators in push-pull configuration + inside the bottom sector of the case)
*2x 120mm NZXT AER RGB (placed on the back side of the case, behind the the socket)
I will write about the radiators later (in watercooling part of my work log)
[FAN CONTROLLERS]:
I have 3 of them: 2x Lamptron FC5v2 and ROG OC Panel v2 (for my ROG Rampage VI Extreme motherboad)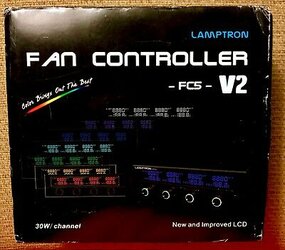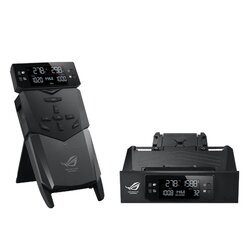 [WIRES]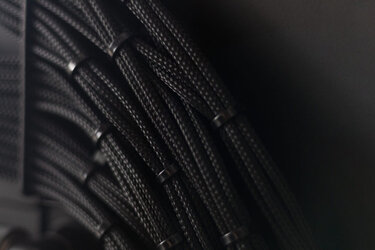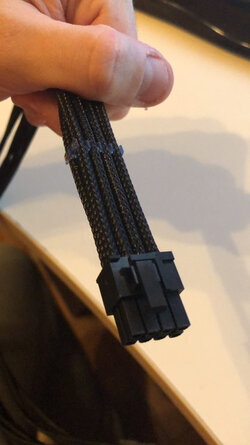 I have the NZXT black individually sleeved wires extenders for:
*24 pin motherboard power connector
*4+4 pin cpu power connector (x2)
*8 pin gpu power connector (x4)
*4 pin molex power connector (x5)
*Sata power connector (x8)
*Individually Sleeved Front Panel power connectos
Also I have a custom made black extenders:
*Molex to 4pin power connector (x5) - for my 3x watercooling pumps
*4pin RGB to 2x 4pin RGB power connector (x5)
And the Noiseblocker 4pin fan extrenders (all are black sleeved)
Watercooling setup Part-1: Waterblocks
EKWB EK-FB ASUS ROG R6E RGB Monoblock - Acetal+Nickel
- combined monoblock for cpu LGA2066 and ROG X299 Extreme motherboard at the same time.
AORUS Extreme Waterforce WB
- integrated native full-cover waterblock for AORUS Extreme GTX 1080Ti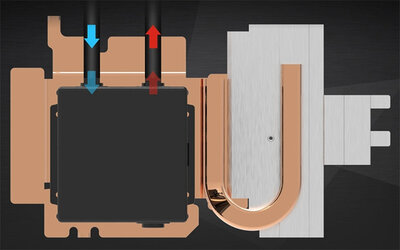 Let's assemble all of them!!!
Next post would be about the Radiators)
This is where an EXTREME begins!
Now as I promised, we will talk about the watercooling radiators.
I always thought that minimum thickness of good radiator begins from 60mm,
I have a 3x TFC XChanger 360mm with Push-Pull fan configuration: overall 18x 120mm fans!
Its already a very powerful watercooling setup, but...
Even that was not enough for me...
A long time ago there was a LEGENDARY Limited Edition Overpowered radiators, and it names: TFC MONSTA EXTREME Limited Edition, with almost 120mm thickness amd a real carbon fiber on the sides!!!
This is me in 2011 with it! Behind me was a [NightVision: Classified] project
This is IT with TFC XChanger 360 with 60mm thickness... awesome
It was much more powerful than even MO-RA 3 PRO with Push-Pull fan formation! But it produced only 350 in the world in 2009...
but
I have TWO of them!!! With Push-Pull (12x powerful 140mm NoiseBlocker PK-3 fans)
ALL my Radiators:
This is really Extreme, without a doubt!
Last edited: