Joined

May 7, 2008
Location
been working on overclocking my asus 5850 all day and decided to post my progress here and see what everyone thinks. Running at 1.27v at around 1000mhz core and 5000mhz memory. Have only done 3dmarks and unigine heaven but since I am mostly going to be gaming I think this is enough. Run max about 70C with 70% fans.
In unigine ran at 1920x1080 with 16x Anisotropy and tessellation on and got 41fps.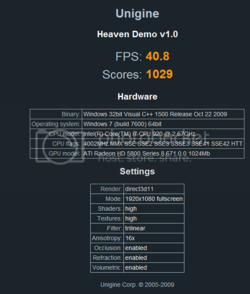 here is also my 3dmarks vantage.
Pretty happy were my card is sitting right now.