Sim Racing Aficionado Co-Owner
For the past 7 years, we've had an app for Overclockers via Tapatalk. As of the migration to XenForo, that is no longer being supported and has already been deactivated. Never when
@hokiealumnus
wrote that
thread
did I ever imagine I'd be helping implement and announce the next version.
The new app, you'll see me refer to as a PWA (Progressive Web App) will install on your device just as any other app on said device. It is a fully-functional version of our XenForo-based website. Going to this platform has allowed the app to be supported on more devices, as well as being one less piece of maintenance/compatibility for us going forward.
Supported Devices/Browsers
As of the time of writing, here are the supported devices and browsers for the PWA.
Chromium-Based Browsers (Chrome, Edge, Brave, Opera, Vivaldi, etc) on Windows/Linux/macOS/Android devices
Firefox carries partial support, but only on Android devices
Safari on macOS and iOS 11.3+
How To Install
From a mobile device, look for this icon at the bottom of your menu, this will add it to your app drawer: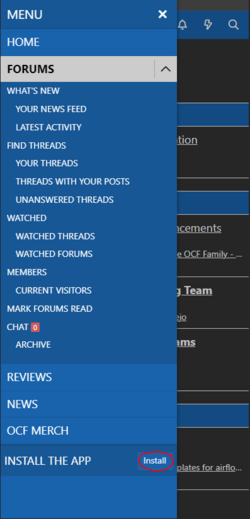 From a desktop/laptop, look for this icon in your URL bar:

If you aren't seeing those icons, check in your browser's menu for an option to Install, or similar.