Hello to all! Hope all is well. I wanted to share my last Alienware build (2008) to my current Alienware build (2015)
II'm a new member, my appologies if this is posted in the wrong section. I started my new project 3 months ago with the help and support of my wife (yes, she told me to go for it). I was browsing through Ebay and ran into a used Alienware Area-51 case (Used) with some damages to the case. For the longest time, since the purchase of my 1st Alienware (2001) I've always wanted the "next generation" cases made after my beloved 2001 case. I purchased the case, and said to myself "I'll just wait to do a new build"... Well, that was short lived. Over to newegg I went and $3,000.00 later, I purchased everything needed to do this build. I decided to purchase some vinyl warp to make the case look better. I ended up getting Avery SW900 Supreme Gloss Light Green Pearlescent Vinyl with some Di-Noc Carbon fiber vinyl. The case was missing the left side front air vent mesh. I ended up ordering a 120mm fan cover that had the mesh, I peeled the mesh off the 120mm fan cover and did the installation to the Alienware case. I ran one small issue with the case. The CPU cooler (Cooler Master V8 GTS) is massive, because of this, the 80mm side fan didn't have enough clearance. Went to microcenter and looked at their section of fans. Ran across a slim, high performance 70mm fan. I said "Let's give this a shot".. Sure enough, it JUST fits. I used some epoxy with a fabricated fan template for the installation. I also fan some blue LED light strips along the sides of the covers. The way Alienware made this case, you have the aluminum (or metal) structure with side panels paired with plastic panels, which bolt to the case. Side panels came apart to run the LED strips. Let's get down to the good stuff.
My new Alienware spec's:
Motherboard: ASUS RAMPAGE V EXTREME/U3.1 LGA 2011-v3 Intel X99 SATA 6Gb/s USB 3.1 Extended ATX Intel Motherboard
Ram: CORSAIR Vengeance LPX 16GB (4 x 4GB) 288-Pin DDR4 SDRAM DDR4 3300 (PC4-26400) Desktop Memory Kit, Corsair Vengeance Airflow Included
CPU: Intel Core i7-5930K Haswell-E 6-Core 3.5GHz LGA 2011-v3 140W
Video Cards: (2x) MSI GTX 970 GAMING 4G GeForce GTX 970 4GB 256-Bit GDDR5 PCI Express 3.0 x16 HDCP Ready SLI Support G-SYNC Support Video Card
Power supply: EVGA 220-P2-1200-X1 80 PLUS Platinum 1200 W 10 yr Warranty ECO Mode Fully Modular NVIDIA SLI Ready and Crossfire Support
CPU cooling: Cooler Master V8 GTS (Massive!)
Hard drive: SAMSUNG 850 EVO MZ-75E250B/AM 2.5" 250GB SATA III 3-D Vertical Internal Solid State Drive (SSD)
Case fans: (4x) Antec LED80XFAN 80mm Blue LED Case Cooling Fan
(1x) 70MM slim fan, custom mounted on side panel (smaller to clear CPU cooler)
Bay drivers:
-ASUS Black 12X BD-ROM 16X DVD-ROM 48X CD-ROM SATA Internal Blu-ray Drive Model
-Rosewill RDCR-11003 - 3.5" 74-in-1 Internal Card Reader with USB 3.0 Port
-ASUS DRW-24B1ST/BLK/B/AS Black SATA 24X DVD Burner
- Thermaltake Commander FT Touch Screen 5 Channel Single 5.25" Bay Fan Controller
Monitor: LG
- 29" IPS LED HD 21:9 UltraWide HDMI Only.
Mouse:
-Alienware TactX Gaming Mouse
Keyboard:
-Alienware TactX Gaming Keyboard.
Custom work:
Vinyl wrap case:
Avery SW900 Light Green Pearlescent for the case.
Di-Noc Carbon fiber gloss black for the vent grills and base.
Blue LED strip lighting installed behind the vent grills.
Fabricate new vent air mesh for one of the front grills (Missing)
Custom fabricate 70mm slim fan to side panel, and support bridge for LED strip not to rub on fan.
----------------------------------------------------
The build.
The wife and I took apart the entire case and deep cleaned everything. We had to prep the panels for vinyl wrap. We started with a side panel.
One of the side panels finished with carbon fiber wrap as well. The Alienware emblems were also damaged. I re-painted them before installing.
Hard to tell, but you can see the LED connector coming out of the panel. This is also the panel that needed the mesh installed.
Custom installation of the 70mm fan. The blue tape was a temporary template to fabricate a new template out of 1mm aluminum sheet.
Some detailed shots of the case work.
LED Lighting
The vinyl job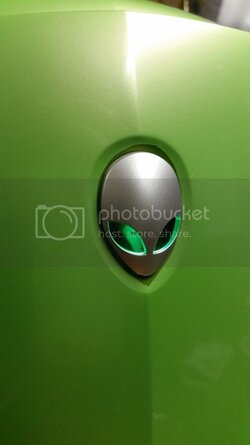 M
y old Alienware vs the new Alienware
Bay's
Under the hood... or behind the side panel.
Thoughts on this build:
I will say, I use to know building computers and computer specifications. Over the years, I lost interest and was in the dark with the current generation of pc builds. After a few weeks of research and a budget in mind, I pieced this together. I will stay it's much more stable vs the Asus Striker 2 extreme motherboard. I had some horrific experiences with lock up's, dead on arrival boards, boards rejecting new bios ect. The last board had the most current bios put in from Asus and was solid (Still works today). I never experienced another glitch. As for performance and speed, this system is by far superior. In some cases, you don't noticed the difference but in gaming wise there is a huge boost in performance. The system runs cooler, hasn't been overclocked but certainly that massive GTS is quality stuff. If I had gotten my hands on an ALX case, I would have done water cooling. I'm still thinking about it for the future, but I'm happy with the current setup. All comments are welcomed. Thank you for taking time to review my build. This was my 1st time in a very long time doing this again. Priorities change as the years go on.
-----------------------------------
My 1st Alienware build (my original case and I still have this setup intact)
Specifications:
MOBO::Asus Striker 2 extreme
CPU ::E6850 Core 2 Duo 3.0+ (3505)
Graphics (SLI) ::2x Geforce 9600 GT 512mb Overclocked --> Upgraded to (2x) Geforce GTX960 Cards
Ram ::Corsair 4GB DDR3-1888 Mgz ---> Upgraded to 8GB DDR3-2000MGZ
Audio ::Creative X-FI Fatality professional series
POwer supply:: Silver stone 950 Watt
CPU Cooler ::Asus Slight knight 2
HD ::2x Raptors 150gig @ 10,000 RPMS
Fans :: 12 Fans/ 6 way fan controller / Temp,volt and UV gauge.
Asus Ram coolers
Sound ::Logitech THX 5.1
Mouse ::Microsoft HABU razor 2000 DPI
Keyboard ::Eclipse 2 Illuminated (Blue)
Photos of this build
Thoughts on this build

Back in 2008, I was told Asus Striker2 Extreme was the best on the market. Unfortunately, I had several dead on arrival boards and a few more with locking issues. The very last board (8th) Asus had performed the latest bios update, which solved the random freezing/lock-ups. This build is still doing well, but, does decent in the latest pc gaming. It was time for an upgrade. I will miss windows XP after having it since it came out in 2001? I had some great times playing a few games on that PC. It held it's own over the years. I'm glad Asus worked out it's kinks over the years with faulty boards (I could also be wrong..) . Thank you for taking your time to look at my long post. I wanted to share my past and current experiences. I am by no means an expert on these things, just another hobby of mine. Thank you all, take care.