How to Build a DIY Benching Station--Navig Style

I recently got a request to build a DIY Navig Benching Station. Between standard and some (very) non-nonstandard builds, I've constructed over 40 different stations over the last decade.
Since the requested station is pretty much a standard build, I figured I'd take the time and the pictures to summarize how I build my stations.
I've had an ongoing
thread
for some time, but I figured it was time to lay out a detailed blueprint as of 2016--I want to provide both approach/theory as well as a step by step construction guide.
Now that I have completed this thread, I am going to stick a link to my
Hyperlinked Table of Contents.
- - - Updated - - -
What is a DIY Benching Station?
First things first, if you are new to Benching Stations, a quick primer.
I would define a benching station as a structure to mount PC hardware to, but leave maximal access to the components.
Having your components out in the open makes it much more convenient to visually inspect and tinker with the components. The downsides of a benching station include the lack of protection, dust, and noise. A lot of people do their benching by just laying their components on a table yard-sale style, but I like having my stuff hard-mounted to something.
Plenty of companies make stations--the classic station that inspired me is still readily available.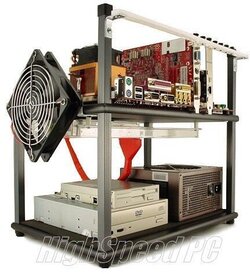 I took one look at this, and understood its utility, but I was like "Hey, I bet I could build one of those!" So that was the "DIY" inspiration. To build a benching station from junk readily available from the local hardware store.
Last edited: