Joined

Sep 27, 2009
Location
Hello everyone.
I have been having a bit of an issue with a new gaming mouse so maybe someone out there can give me a bit of insight on how to resolve it. I'm going to give some history of the issues with some of the things I have tried to resolve it and I'm really going to do my best to summarize while still conveying the major points. I promise.
Back in my Windows 7 days I used to have a Genius Death Knight mouse which I loved and kept until it just wouldn't work anymore. I didn't know much about the Chinese manufacturer Genius at the time, but what drew me in to the Death Knight was the button placement for its programmable macro buttons and I felt it was a pretty intuitive design. Turned out to be a great peripheral device and one of the best gaming mice - particularly for MMOs - I had used. Not too long Genius put out an evolved version of my beloved DK mouse, the GX-Gila, which is essentially the same mouse with an additional three extra mouse buttons. When I had an opportunity a week ago to pick up the Gila for super cheap I jumped on it.
This is the Gila -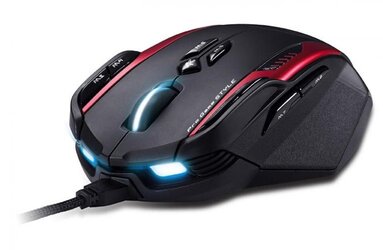 This mouse has 8 programmable macro buttons:
M1 & M2 on the LMB
M3 & M4 on the RMB - [mouse wheel tilt left and right by default]
M5 & M6 below the DPI toggle - [media volume up and down by default]
M7 & M8 on the left side - [mouse buttons 4 and 5 / buttons X1 and X2 by default]
The problem is the software to control the mouse is designed for Windows 7 / 8 and doesn't work with 10...at all. The mouse operates as a standard HID compliant mouse in Win10, but I can't program any of the macro buttons or control the lights. I have tried everything to get this software to work including updating the firmware and still nothing works. If someone asks I will gladly go into detail and state the troubleshooting steps I took.
The software simply will not with Windows 10, probably never will, so I have accepted it and given up on even trying to pull a miracle out of a hat anymore.
This is when I start thinking out the box about third party software solutions and I have tried most of the popular applications I see people talking about in forums, but none - not even the commercial ones - have been able to take control of all 8 of the macro buttons. Some software suites do better than others and in the end they all still manage to fail.
X-Mouse Button Control? Only recognizes M7 & M8 as X1 & X2. I looked into creating a script in AHK which has a call sign for every mouse button except M1 & M2 on LMB. On the commercial side there was one program, ATNSOFT's Key Remapper, which had come close like AHK, but it still had not recognized M1 or M2 either.
Apparently M1 & M2 are non-standard mouse buttons which do not have any predefined functions in windows so in these various apps when I click those two mouse buttons nothing happens. Every other macro button will light up a specific value / function that the software can take control of and bind except for the first two. The software is treating these two buttons as non-existent so if a predefined function doesn't exist any value cannot be attributed to it - so the apps say - which just makes these apps treat the buttons as not being "real".
However, I know they are real because even though the official outdated and unsupported Genius software didn't work I still browsed through it and the M1 & M2 buttons did have an option for binding just like all the other ones. I know these buttons are programmable, it's just a trick of getting some third party software to recognize all 8.
In the end it's not a huge deal because if I can't make the Gila work the way I want then I will break down and get something else I know that will work, but I'm not ready to give up on the Gila yet. It's a nice mouse, I just want to be able to take control of all of the buttons including M1 & M2.
I'm open to all feedback, suggestions, and ideas.