I want to build a network for 14 PC's. I know a basic server is just a computer with an Server OS. But what should I consider? There's no gaming involved with the network just standard users. I plan on using one server, one router, one switch to start with. On a later date I wish to have 2 routers and 2 switches Encase of failure which will happen with routers for sure. I will have 5 printers as well. I want everything networked together. so..
14+5+1+1 = at least a 24 port switch. These are some rough diagrams whats going on.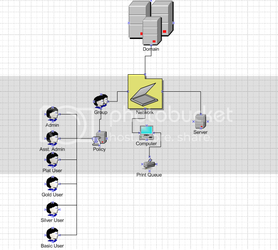 Side note:
I wanted to use Eset As my virus protection/fire wall.
The OS: Will probably be server 2008 en less you guys have suggestions?