here's a more accurate test.
took me more than 24 hours to get these results.
I have came to understand the high standards here, so I will list out all the test elements here.
My system. CPU block only.
Chassis is CM storm Trooper,
CPU is i7 3930k under 1.50V at 5.0Ghz for all tests.
MOBO is Asus R4E, with PSU of 1200W
with 2 x 120 fans mounted in front.
1 x 120 x 38 on the bottom. Air flow is plentiful.
for Archon's test, an extra 140 fan is mounted on the back, to besure the archon exhaust runs out quickly.
OS is windows 7, 64 bit. with all programs on start up disabled, so there has been no interruptions with anything.
Ambient is 25'C for all calculations, room is temperature monitored, with for most +/-1'C deviation to thermostat next to computer.
Test method:
- Power On computer, let it run for 30 mins under ambient.
- All tests are based on CPU cooling only.
- Idle temperature is recorded here.
- Run prime95 blend test for 4 hours.
- I used Core Temp to record temp on all cores, and average the temp cores at 4 hours. (on my set up, no matter what I do, core 2-3 is always 2-3'C cooler than Core0-1 and 4-5)
- Thermal paste use method is the same in all. Always checked in the end to ensure it is applied correctly after experiment.
- Computer is shut down after each test, waited for 30 mins before restarting next stage.
- Cost on chart is cost comparison from Japan, valued in USD.
Equipment used:
- AX-4 Thermal Paste
- Archon my past air cooling fav.
- h100 with Corsair stock fans in PUSH config
- H100 with KazeJyuni in PUSH/PULL config
- For water cooling,
- Used swiftech radiators except for the last set, which were black ice x 3
- Used Apogee XT for the test, except for the last set which was Koolance 370
- Pump is Swiftech 655-B
- XSPC single bay reservoir
- Primo Tubes
- Mixture of barbs and compression fittings.
- Coolant is Distill, with deadwater and silver kill coil.
- For the expensive set, all radiators are added with push/pull configs.
Results: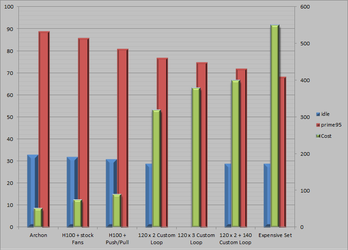 - Archon triggered CPU to throttle. So it failed.
- all other liquid testing CPU did not throttle.
- H100 however has a steady increase slope of temperature, and if the test went on for another 4 hours for that system, it is possible to reach CPU throttling temperatures. Especially the test on Corsair Stock fans.
My conclusion:
Cost effectiveness prices goes to H100 with push/pull config and custom fans. Price of a system raises enormously after, but addition cooling can be archieved if you pour in the money.
Water cooling is an art, which require much learning, practice, and patience. If you love it, you will LOVE it all day long, like I do. But the cost is considerably higher. And each step up the curve, the cost goes up exponentially. So best to set yourself a budget.. and stop there. THINK before you buy anything, what fitting to use, what CPU block to use, etc.
Feedback welcomed.
Last edited: