Hiya Folks!
Learned this technique from steponz at the 2016 Party in PA. Generally....I'd always tape the cpu in the socket then throw a layer of eraser down from the edges of the cpu to out around the pci-e and dimm slots, etc. Took literally close to a couple hours to get set up for benching. It was a bummer when sometimes, after the 90-120 minutes of effort, I'd get 15-60 minutes of run time (or, worse, the system wouldn't post at all). That said...when it did work, was able to go for long-ish (4-5 hour) sessions.
The end of my eraser days started with lochekey showing me his insulation job at the party. Since it was a lot less than I normally use, thought we'd ask steponz/Joe. Joe doesn't use any at all and gave me a bit of a lecture ;P. Basically...the idea is get benching as quickly as possible. If it fails, plenty of time to correct and go again (he also showed us the hot box technique which is crazy excellent for quick dryouts). Less setup time = more benching time.
This insulating method is really quick (10 minutes to prep/setup with a new cpu) and I've gotten 2-3 hour runs without too much hassle.
Step 1) Waterproof your board with LET, vaseline, dragon skin (which I love), conformal, whatever.
Step 2) Use thick shamwow and cut 3 gaskets like in the pics below. Cut your piece of 1/2-1" neoprene.
Step 3) Slide the backplate, rubber gasket and mounting rods through the board.
Step 4) Put on the pre-cut (and re-usable!) shamwow gaskets. I usually don't clamp the cpu until the first layer is down so the holdown goes on top of the shamwow. Not sure if it makes a difference.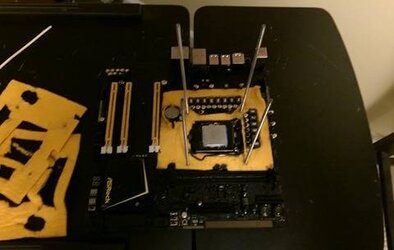 Step 5) Slide down the neoprene gasket.
Step 6) Apply TIM, mount the pot and finish setup.
Update:
Wanted to add some additional thoughts to this...
- The number of shamwow layers can vary from 2-3 (or 4?) depending on the thickness of the waterproofing. On the setup above using LET, it takes 3 layers to get it built up to just below the same height as the top of the cpu. If you use something like dragon skin, it may only need 2 layers.
- If you hit CBB/CB...be careful in warming up so you don't let the temp rise too much. For example, with my 6700k (CBB ~ -130C), I don't let the temp go warmer than about -120C.
- If you use the hotbox technique, be sure to let all components return to ambient temp before hitting the setup again with ln2. I tried with the parts pretty warm and had more or less instant frost and condensation issues.
Last edited: