Joined

Jul 13, 2007
Location
So the name comes from my frame of mind the whole time I was working on it. This was my first shot at water cooling a case so I had the virgin nerves.
I have been running a mildly modded Compaq P4 for about 5 years now, and I was getting sick of it. I didn't have the money to build the system I wanted, so I decided to build the system I have the way I wanted.
The case was given to me, so i decided to play with water cooling, and overclocking. I started by placing some orders that would get my 2.8 p4 off of OEM support.
BioStar P4M60-M4 mobo
Crucial CRUCIAL 2g DDR PC3200 (from friend)
Upgraded from a 6 series GeForce to the BFG 7800GS OC
Ultra 500w PSU (from friend)
Then I started slowly ordering WC parts:
Swiftech Apogee GT
Black Ice 240 rad
1/2" line
Iwaki MD-20rzg-2 (thus the need for the pump box)
Double 5.25 resi (free)
DD Fillport
I did have a Tt block rigged on the GPU, but it just caused too many problems/leaks in the system so I ditched it.
Then I got started designing the pump box, and trying to get the logo ready to cut on my buddies plasma table as a puzzle.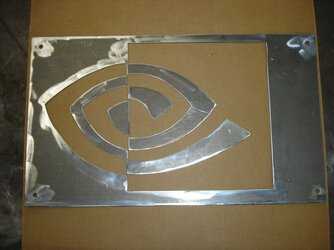 the box template was also cut on the plasma table, and then folded into place with a sheet metal break. Just a little welding, and some finish work is all it took.
Test fit of the Rad block.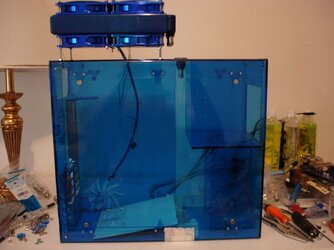 Back from powder coating and logo glued in place on opaque plexi: