AMD FX 8350
ASUS Sabertooth 990FX 2.0
Corsair Vengeance Pro (CMY32GX3M4A2400C11R) -- 32 GB (4 x 8 GB) 2400 MHz 1.65V 11-13-13-31
Corsair HX850i -- 850w Modular
2x AMD R9 270 w/ 2 GB each
Swiftech H20-220 Ultima Water Cooling Kit
I'd like help with 2 things, in order of importance to me:
Stabilizing RAM at 1600 or 1866 MHz
Stabilizing CPU at 4.6 or 4.7 GHz
I know the CPU will do 4.6 or 4.7 as I have had it up there before, nearly stable. Temps were the limiting factor before I had put the w/c kit in. But I would like to work on the RAM first.
I realize that 32 GB is a large amount, and the AMD CPUs have weak IMCs. Had to bump up CPU/NB to 1.225v and change to 2T, just to get it to do 1 pass of Memtest86+ at 1866 without errors... Currently CPU/NB is at 1.250v to fix some issues that popped up - NIC flakiness and the clipboard (copy & paste) not working in a VM. I'm looking for advice on settings to pick, or expected value of CPU/NB, for an overnight run of Memtest86+ at 1866.
I will post more settings and the CPU-Z images once I figure out what the forum likes.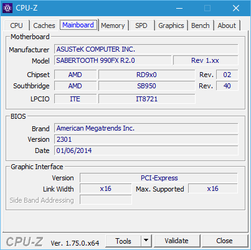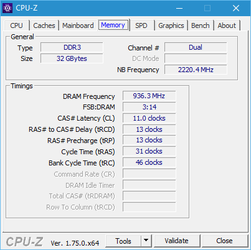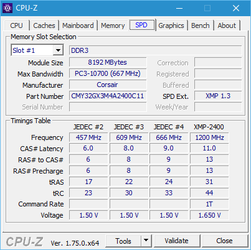 I disabled Turbo, C6, CnQ, APM, C1E and anything else power/throtting related in the BIOS.
Last edited: