Joined

Oct 3, 2005
Location
Hey guys, I finally got my new PC built and overclocked my i5 to 3.36 ghz. Sadly, I have been a member to these forums for quite a while and still have limited knowledge on overclocking. Technically this is my first "real" overclock. So here is what I have so far, mind you this is with stock cooling.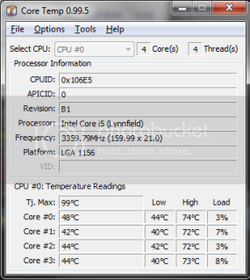 I ran prime95 over night and the system seem to maintain stability. I didn't change any of the voltage. all I did was up the multiplier to 21x from 20x and increase the bus speed from 133 to 160. The only thing that really bothers me is the temps the CPU is getting, on full load it was running at 72C with prime95. I guess I need to get a new CPU cooler.
So what do yall think? Did I do everything correctly? Does more information need to be provided?
Let me know