I have a read out from everest and easytune (gigabyte utility). Bare in mind that these are some pretty cheap/generic DDR3 modules sold by crucial.
Current settings
-
Unganged Dual Channel DDR3 1333Mhz 9-9-9-24 (automatic timing) 1.5v
Everest Benchmark:
Memory Read: 8174 MB/s
Memory Write: 6775 MB/s
Memory Copy: 9908 MB/s
Memory Latency: 54ns
any problems with these numbers?
-
Everest timings:

-
EasyTune timings: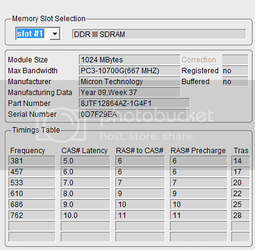 I guess both tables would be acceptable, and I notice it sort of shows the timings slightly overclocked by a mhz or a few (ie showing the timings for 1524mhz). Just wondering why it determines these numbers differently.
-
Also, any predictions for how tight I could get the timings without heat becoming a problem, and preferably without upping the voltage much or at all? Worth pushing to 1524Mhz? what voltage would it need?
Last edited: