I have known Tom for about a year and he is an avid overclocker and developer of peltier cooling solutions. He has spent a lot of time getting his peltier heatsink just right and sent me one to review. As many of you know I have been playing with peltiers also and have found condensation to be the number one issue. The reason you don't see a good commercial peltier is that it takes time and effort to fit insulation and most companies will not get involved with "craft labor." Fortunately for us Tom does not have these restrictions.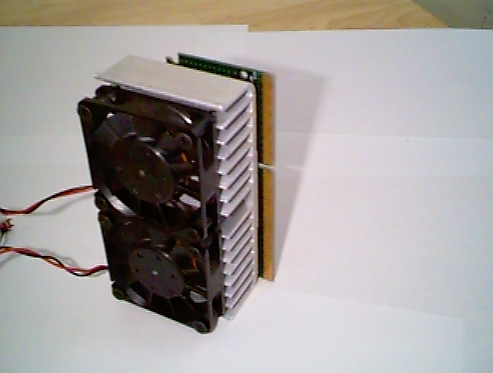 This is the fully assembled heatsink.
Upon opening the box I was impressed with the obvious attention to insulation – this puppy looked like it would not have a water problem. I found this to be the case in use – I mounted it, fired it up and son-of-a-gun, no condensation!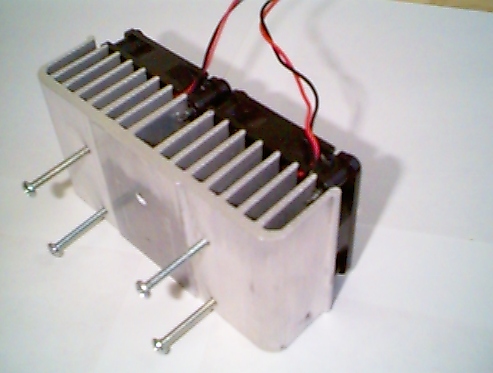 This shows the bolts which attach the Celeron to the heatsink.
For test purposes I used the C366 which I reviewed in my "Tale of Two Chippies" article – this allows us to compare its performance to a P125, P125 with peltier and Chen's water-cooled P125.
THE SETUP
I used the following system:
ABIT BX6 rev 2.02 with thermal diode fix
IBM 10 G hard drive
Matrox G200
Ensoniq PCI sound
Umax SCIS card
3 Com Lan card
128 M Samsung GH
RESULTS
I am pleased to report that Leufken's Heatsink performed better than my P125/peltier combo, no doubt due to the cold plate and insulation; Tom's kept the C366, 550 @ 2.3 v, at 28 F at rest with no icing. My feeble P125 attempts generated plenty of ice. The C366 @ 366 2.0 v cooled down to 24 F at rest and 64 F under Prime 95. As with the P125, it did not allow me to get 550 stable under Prime 95 as this chip fails at about 65-75 F (all temps are with the thermal diode). Tom uses an aluminum cold plate between the CPU and Peltier which proved to be very effective at modulating cooling.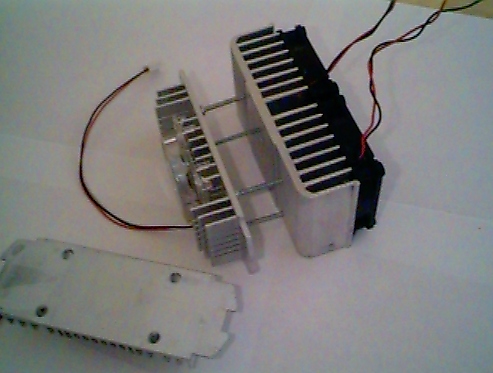 This shows Tom's sandwich approach.
SUMMARY OF COOLING APPROACHES
Now that I have tried a bunch of different techniques on the same chip, we can compare how well each did:
Alpha P125 Air Cooling:
C366 @ 366, 2.3 v: 89 F at rest, 111 F with Prime 95.
C366 @ 550 2.3 v: NG – will not post.
Alpha P125 with Peltier:
C366 @ 550, 2.3 v: 33 F, fails with Prime 95 @ 75 F.
No insulation used – serious icing.
Tom Leufken's Peltier Heatsink:
C366, 550 @ 2.3 v, at 28 F at rest, fails with Prime 95 @ 75 F.
No icing or condensation.
Chen's Water Cooled Peltier Results:
550 @ 2.3 v at rest: -4 F
550 @ 2.3 v Prime95: 42 F
567 @ 2.3 v, P95: 46 F
616 @ 2.3 v, P95: Fail
CONCLUSION
If I look at the range of cooling solutions available, there is no doubt that water-cooled peltiers are the single most effective solution. However, whether this is the most practical solution is each individual's call.
If all you're looking for is good cooling, go with a Global of TennMax cooler – good products at reasonable prices. If you want a great cooler, go with the Alphas – right now the best available.
If you want to push your CPU beyond what it can do air-cooled, Tom Leufken's Peltier Heatsink is a good "Out-of-the-Box" solution – the only peltier heatsink I have seen that comes effectively insulated. If you want to really push the envelope, water cooling is the only way to go and Chen's Heatsink is one way to get there.
How To Get Tom's Peltier Heatsink
Tom's heatsink comes with the following:
50 watt Peltier (Melcor 14.4v, 6 amp)
Aluminum Cold Plate
GIANT Heatsink
Compression Foam for Front and Back
Rear Plastic Plate
Overclockers Handbook
Dual 60 mm Fans, 26 cfm
Now folks I am a sucker for good cooling solutions and I will tell you, like the Alpha, I used this, am impressed and I have arranged with Tom to sell these. He has sold about 70 of these and has decided to let us sell them exclusively for him so he can concentrate on making them. We are offering these at $45 without fans and $60 with the 26 cfm YS Tech fans, with 3 wire connectors (tach output).
Let's face it – here I am reviewing and selling these at the same time – Conflict of Interest? Me, I would read this Review with a grain of salt, so either contact Tom directly HERE (No orders please!) and/or read the testimonials from folks who have bought Tom's Heatsink:
Testimonials:
Subj: Re: Finally stable @ 504.
Date: 6/21/99 5:13:55 PM Pacific Daylight Time
From: [email protected] (Schwalbe)
I have now played tribes for a couple of hours….thanks again, those extra 45 MHz make a noticable difference to game play!
-Tom
From: gcgeorge 11:01 pm

To: Tom Leufkens (TELETRAN) unread
#35430.4, in reply to 35430.3 prev 4 of 4
The Setup is great. I can run this stupid little 300a slot 1 at 1.85V at 504mhz. ALL tests run great.
Subj: Shipment received!
Date: 6/19/99 8:21:34 PM Pacific Daylight Time
From: [email protected] (Wojciech Jurek)
To: [email protected]
Hello Tom!
I've just received the shipment of your peltier rig. Everything looks
great…Thanks again for your help. I'll be sure to spread the word soon.
Wojciech Jurek
From: Larry DeBarge (DEBARGE) Jun-1 4:58 pm
To: Arcwitch
#34424.5, in reply to 34424.4 prev 5 of 8 next
If you are interested in a peltier there is a compatriate on this form that makes excellent slot 1 rigs…mine works great!