c(n*199780) Senior Member
• If you have a dozen Chromecast devices, and a dozen wifi power outlets, and half a dozen laptops and desktops, etc etc. In other words, if handling the sheer number of devices is the goal, then what specific feature on an example router like the Costco AC3600 compares it to others? How can you tell which router can handle more devices?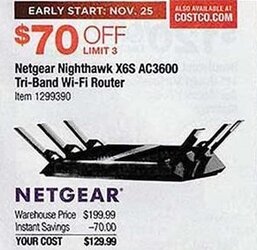 https://www.netgear.com/home/products/networking/wifi-routers/R7960P.aspx
• Similarly, if you are looking at range, not download speeds, what feature tells you that, are there web sites that do shootout comparison measurements, all things being equal?
• Finally if you are looking at the speed of file transfers between in house devices, what do you look at to tell which router is faster for in house between-device transfers [not internet downloads]?